7,000 farmers march to Mumbai; delegation meets CM Fadnavis
India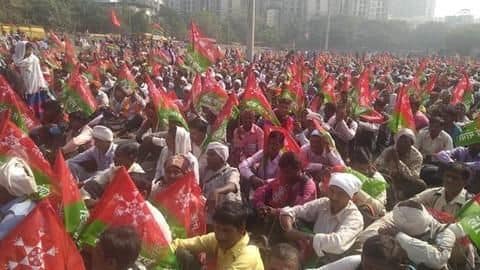 Eight months after they were promised reforms by the BJP government in Maharashtra, a delegation of protesting farmers met Maharashtra Chief Minister Devendra Fadnavis on Thursday to reiterate their demands.
The march, involving over 7,000 farmers led by the Lok Sangharsh Morcha, began on Wednesday, and the farmers have threatened to sit it out on the Azad Maidan grounds till their demands are met.
Quote
Farmers: We won't budge till demands are met
"We have been consistently asking the state government to fulfil our long-standing demands, but the response has been lukewarm...We will not leave Azad Maidan until our demands are met. We will decide our further course of action after meeting the chief minister," said Pratibha Shinde, general secretary of the Lok Sangharsh Morcha.
Demands
What the demands of the protesting farmers are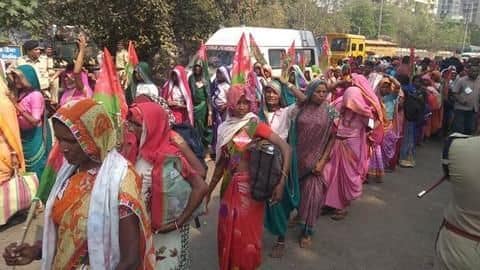 The demands of the farmers include the implementation of the Swaminathan Committee's Report, pending claims under the Forest Rights Act (FRA), complete farm loan waivers, setting up of a judicial system to implement minimum support price, and drought compensation.
Notably, this is the second time in eight months that farmers have marched to Mumbai to demand their rights.
WATCH: The farmer protests at the Azad Maidan
Support
Shiv Sena, AAP, JD(S) have lent their support to farmers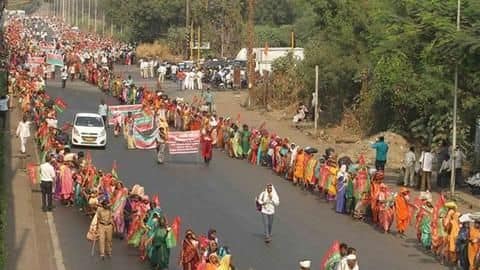 The current march has also received significant political support.
Several political parties, including the Aam Aadmi Party (AAP), Janata Dal (Secular), and the Shiv Sena, have lent their support to the protesting farmers.
Additionally, the march is also being supported by water conservationist Dr. Rajendra Singh and Swabhimani Paksha founder and MP, Raju Shetti.
Earlier
In March, 35,000 farmers had marched to Mumbai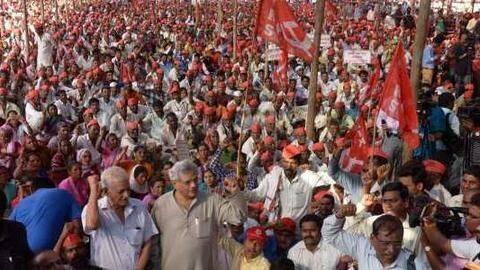 Earlier in March, over 35,000 farmers led by the Left-affiliated All India Kisan Sabha (AIKS) marched 180km from Nashik to Mumbai to demand their rights.
However, the protest was called off after the BJP government in the state accepted "almost all" their demands.
The government had ceded to the farmers' demands in writing, and had promised to implement them in a timely manner.