19 dead, 50 injured in Bhubaneshwar hospital fire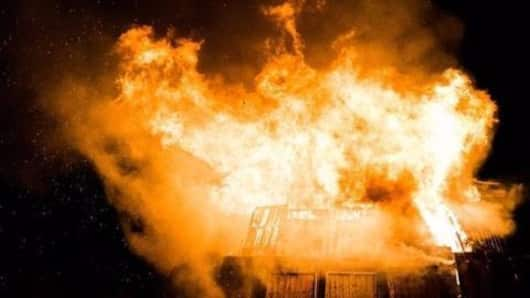 A fire broke out in a private hospital in Bhubaneshwar killing 19 people and injuring 50 others.
Several victims and their caregivers were hurt while trying to flee amid the confusion and smoke.
Many complained of severe burns, difficulty in breathing and were being shifted to other hospitals for treatment.
The authorities had begun an investigation into the matter.
In context
Bhubaneshwar hospital fire: Death toll reaches 19
2nd hospital fire in 6 months
On 31 May, another fire had broken out in Cuttack's state-run SCB medical college and hospital. Over 100 patients had escaped when the cardiology department of the hospital had caught fire.
Investigation
Investigation reveals short circuit to be the cause of fire
On the orders of Chief Minister Naveen Patnaik, the Revenue Divisional Commissioner (RDC) was asked to probe into the incident.
A preliminary investigation suggested that the fire had started out in ICU and dialysis ward of SUM Hospital-cum-medical college.
The fire was reportedly started because of a short circuit, around 7pm.
Love India news?
Stay updated with the latest happenings.
Notify Me
Relief
Quick relief reaches the ablazing hospital
The fire saw quick relief being carried out with as many as 7 fire tending vehicles at the spot.
The fire was brought under control in over 2 hours.
A Bronto Skylift was also pressed into service to save patients by doors and windows being broken open.
Around 15 ambulances were also pushed into service to move the victims out of the hospital.
PM expresses anguish over the incident
PM Modi called the tragedy "mind-numbing" and expressed agony for the loss of lives. He tweeted saying: "Spoke to Minister @JPNadda & asked him to facilitate transfer of all those injured to AIIMS. Hope the injured recover quickly."
19 Oct 2016
Police make arrests over SUM hospital fire
Odisha police arrested four persons connected with the deadly blaze at the SUM hospital.
SUM's superintendent Pushparaj Samantaray, fire safety officer Santosh Das and two electrical division employees Malaya Sahoo and Amulya Sahoo have been booked under various IPC sections.
It also emerged that a doctor and nurse were instrumental in saving the lives of babies trapped in the hospital's ICU during the fire.
20 Oct 2016
Chairman of Bhubaneswar hospital that caught fire surrenders
The Chairman of the Sikshya O Anusandhan Charitable Trust, Manoj Ranjan Nayak, surrendered before police in light of the SUM hospital fire in Bhubaneshwar that killed 21 people.
The trust runs the hospital and Nayak surrendered after authorities filed FIRs against the hospital management.
Sources added that Nayak has been taken to an undisclosed location for further interrogation.
21 Oct 2016
SUM hospital inferno: Calls for resignation of Odisha CM
In the aftermath of the deadly inferno at SUM Hospital in Bhubaneshwar, people have begun calling for the resignation of the state Health Minister and Chief Minister Naveen Patnaik.
Health minister Atanu Sabyasachi Nayak, is under fire after gross violations of fire safety norms and standards were discovered.
Opposition leaders have said that the blame for the blaze should rest with the Chief Minister.
22 Oct 2016
Odisha health minister resigns to protect his tarnished image
Atanu Sabyasachi Nayak, Odisha's health and family welfare minister resigned on moral grounds giving in to pressure over the SUM Hospital fire.
Nayak had been under the scanner after the high death toll of children at government-run Sishu Bhavan in Cuttack in November 2015.
The ongoing Japanese encephalitis outbreak which killed 60 children further dented his image.