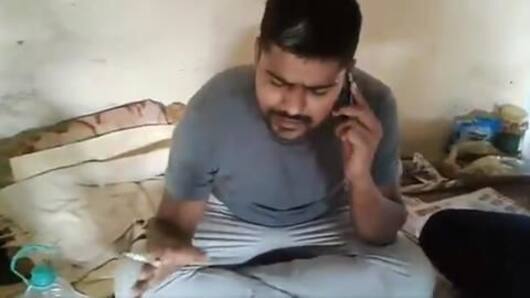 Viral video: Gangsters inside UP-jail threaten on phone, drink alcohol
There isn't much of a difference in life inside prison and outside, for inmates of Uttar Pradesh's Raebareli jail, a video which has surfaced on social media shows.
In the clip, the criminals can be seen drinking alcohol on their beds, threatening people on phone and putting a list of demands.
After it got media attention, senior officials of the jail were suspended.
They are partying, demanding money, passing orders
The video features shooters Sohrab and Anshu Dixit, who along with four others, were partying inside the barrack.
On phone, Dixit purportedly tells someone to give Rs. 10,000 to the jailer at his residence and Rs. 5,000 to the deputy jailer. He can also be seen giving orders about liquor.
Soon, Sohrab is seen abusing someone on the phone too.
Love India news?
Stay updated with the latest happenings.
Yes, notify Me
Senior officials have been suspended
Principal secretary (Home and Prisons) Arvind Kumar said action has been taken and officials namely senior superintendent of district jail Pramod Kumar Mishra, jailer Govind Ram Mishra, deputy jailer Ram Chandra Tewari, head warder Lalta Prasad Pandey and two warders Ganga Ram and Shiv Mangal Singh have been suspended.
Kumar added an inquiry has been initiated against all the officers over their alleged negligence.
Senior official says inmates seen in video have been transferred
Further, Additional Director General (prison) Chandra Prakash said Umesh Srivastava, who is the Deputy Inspector General (prison headquarters), has been asked to conduct an inquiry.
According to the initial probe, the video was shot on November 2 by inmates and made viral on purpose, Prakash added.
He said the four inmates seen in the video were transferred to other jails on November 19.
Cigarettes, lighter, sweets found from barracks, FIR registered
Dixit and Sohrab were shifted to Pratapgarh and Tihar jail respectively.
Nikhil Sonker was sent to Sultanpur jail, Ajit Chaubey to Barabanki jail and Shringar Singh to Fatehpur jail. Sandeep was sent to Tihar with Sohrab, Prakash revealed.
In searches, cigarettes, lighter, sweets and dry fruits were found from different barracks.
Meanwhile, authorities have lodged a complaint against inmates responsible for smuggling banned items.