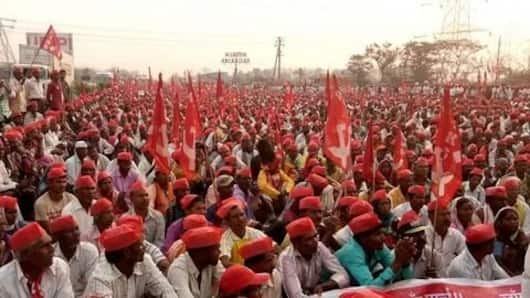 #AgrarianCrisis: Over one lakh farmers march on the Parliament
After over one lakh farmers from all over India poured into Delhi on Thursday to pressurize the government into taking cognizance of the agrarian crisis, the farmers have now started marching towards the Parliament to demand a special session for addressing farmers' distress.
Over 3,500 police personnel have been deployed to ensure security during the march.
Here are the details.
Delhi CM Arvind Kejriwal, hundreds of volunteers to join farmers
The farmers have been joined by hundreds of volunteers, including doctors, lawyers, professors, students, and artists.
Meanwhile, 600-700 others from a solidarity group called Nation for Farmers have also joined in on the march.
Among political leaders, Delhi Chief Minister Arvind Kejriwal, NCP chief Sharad Pawar, National Conference chief Farooq Abdullah, and Loktantrik Janata Dal's Sharad Yadav are set to join in.
Love India news?
Stay updated with the latest happenings.
Yes, notify me
What the demands of the farmers are
Demands of the farmers include an unconditional loan waiver, and implementation of the 2006 Swaminathan Commission's recommendations on minimum support price (MSP).
Further, farmers are demanding a special 21-day joint session of the Parliament for the discussion of two bills - Farmers' Freedom from Indebtedness Bill, 2018, and Farmers' Right to Guaranteed Remunerative Minimum Support Prices for Agricultural Commodities Bill, 2018.
The Kisan Mukti March is the latest protest by farmers
The two-day Kisan Mukti March is being organized by the All India Kisan Sangharsh Coordination Committee (AIKSCC), a collaborative body of over 200 farmers' organizations.
The protest is the latest in the series of farmers protests that have taken hold of India over the last 18 months, highlighting India's intensifying agricultural crisis.
Yet, calls for reforms seem to have fallen on deaf ears.
Farmers protests have intensified over the past 18 months
Over the past 18 months, farmers protests across the country have intensified, and the Kisan Mukti March is the third major farmers protest in Delhi in as many months.
It is also being accompanied by a protest by over 50,000 farmers in West Bengal over the issue of land return.
Just weeks earlier, Maharashtra, too, had been rocked by protests by thousands of farmers.
The scale of recent protests highlight farmers' distress
While agrarian distress has been a feature of the Indian economy for decades, the scale of the recent protests highlights the desperation of farmers.
Owing to factors like small landholdings, low crop prices, and crop loss resultant of erratic weather, farmers across the country have been caught in a vicious circle of debt, so much so, that thousands have committed suicide.
Every day, 42 farmers in India commit suicide
Owing to cyclical debt, between 1995 and 2016, 333,398 farmers across India have committed suicide - a rate of 42 suicides per day. Since 2016, however, data on farmer suicides have been made unavailable.
The Modi government had misleadingly claimed to have addressed MSP
A key issue is MSP.
The 2006 Swaminathan Commission report had, among other things, prescribed a MSP of 1.5 times the cost of cultivating crops.
In July this year, the Modi government claimed that it had fulfilled farmers' demand to implement the Swaminathan Commission's recommendations of MSP, saying that MSP had been set at 1.5 times the cost.
However, this was a misleading claim.
Why the Modi government's claim is misleading
While the Swaminathan Commission had recommended setting MSP at 1.5 times of C2 (comprehensive cost), the Modi government set MSP at 1.5 times of A2FL costs, which is substantially lower than C2.
This is an important caveat.
The A2FL formula takes into account actual cost of production plus imputed value of family labor.
The C2 formula, on the other hand, takes into account a lot of costs, including imputed rent on land and interest on capital.
Thus, there's a marked difference between C2-based MSP, and A2FL-based MSP.
Why farmers want a constitutional guarantee on MSP
Another issue is that despite there being an MSP, market prices for crops have continued to be less than the MSP.
Thus, farmers want a constitutional guarantee that their crops will be bought at MSP.
Further, farmers also want state and national disaster relief commissions to be set up so that a region or a crop can be declared distress-affected, should the need arise.