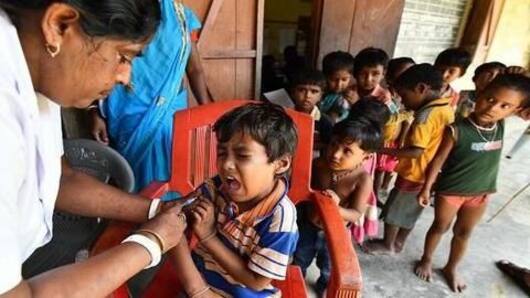 Nagaland: Measles Rubella vaccination campaign covers 98% of children
Around 98% of the children in Nagaland in the age group of 9 months to 15 years have been vaccinated against measles rubella (MR) during the special vaccination campaign launched by the state government, a Health Department official has said.
The Measles Rubella vaccination campaign (MRVC) was officially launched by Chief Minister Neiphiu Rio on October 3 and it concluded on November 29.
Vaccination campaign covered 4.38 lakh children in Nagaland
The campaign had a total state coverage of 98% of the targeted 4.48 lakh children in the age group of 9 months to 15 years, state Immunization officer, Dr. Atoshe Sema said yesterday. It said 4.38 lakh children have been immunized during the campaign period.
Highest immunization target achieved in Mon, lowest in Kohima
Mon district achieved the highest immunization at 99.85%, followed by Kiphire at 99.60% and Longleng at 99.09%.
The least covered district is Kohima with 95.57% coverage, the release said.
It said the Health Department will continue to monitor new measles and rubella cases through active surveillance and further strengthen routine immunization activities in the state with the experiences gained during the campaign.