#BulandshahrViolence: Cow carcasses were 48-hours old, says top cop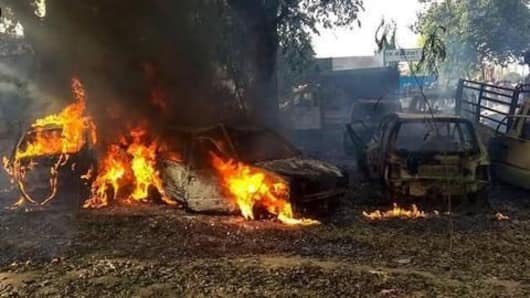 In what serves as a new twist to the Bulandshahr violence, a top cop has said cow carcasses (dead-bodies) found in the forest were at least 48 hours old.
Earlier this week, violence in this Uttar Pradesh district killed one inspector and a youth, and it was reported cow slaughter was the reason behind it.
With these new findings, the question is - was it a pre-planned conspiracy?
In context
Bulandshahr violence: Cow carcasses were 48 hours old
Report
What preliminary investigation has unearthed
India Today quoted IG Crime SK Bhagat as saying, "According to preliminary investigations, carcasses recovered from ground zero were at least 48 hours old. An investigation is on and things will be clearer once the probe is completed."
He suggested the violence was instigated by some groups to hamper the communal harmony in the area.
The SIT is probing all angles in the case.
Claims
Main accused had complained about cow slaughter
Notably, the main accused in the case, Bajrang Dal member Yogesh Raj, told the police he found the carcasses on December 3, which upset the locals and the violence started.
On the basis of his complaint, an FIR was registered at Siyana police station.
It was widely reported that he led the mob which pelted stones at police personnel, but he denied it.
Love India news?
Stay updated with the latest happenings.
Notify Me
Have nothing to do with violence: Yogesh
In a video which he released to make his claim of innocence, Yogesh said, "Since our demand of an FIR was being fulfilled, why would us, Bajrang Dal people, cause a riot-like situation? I have nothing to do with the second (mob) incident."
Locals' take
Locals don't have good words to say about Yogesh
On Tuesday, police summoned two 10-year-old boys from Nayabaans village after their names were mentioned in Yogesh's complaint.
A relative of one of the boys slammed the outfits for polarizing the area. He said, "We want to thank inspector Subodh Kumar (who was killed), he averted what could have been another Dadri."
Another local claimed Yogesh mobilized the residents and provoked them against Muslims.