Himachal reels under intense cold, -10 degree Celsius in Lahaul-Spiti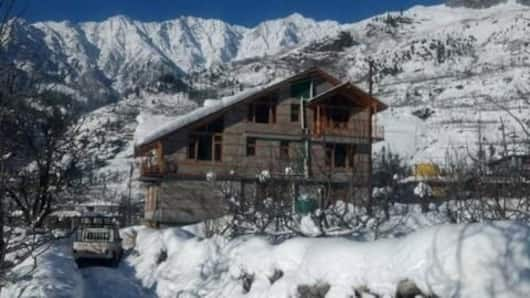 Himachal Pradesh is reeling under intense cold following a fresh spell of snowfall with temperatures in tribal Lahaul-Spiti district hitting nearly -10 degree Celsius, the Meteorological Department said.
Keylong, 126km north of Manali and the administrative headquarters of Lahaul-Spiti district, has recorded the lowest temperature at -9.9 degree Celsius between 5.30pm yesterday and 8.30am today, said Shimla Meteorological Department's director, Manmohan Singh.
Here's more.
In context
Intense-cold grips Himachal; Lahaul-Spiti hits -10 degree Celsius
Details
Tourist places like Shimla, Kufri recorded between 2-4.7 degree Celsius
The mercury in Kinnaur district and Manali has also dropped below the freezing point.
The minimum temperature in Kalpa in Kinnaur district was recorded at -3.8 degree Celsius.
Manali in Kullu district recorded a minimum temperature of -2.2 degree Celsius, whereas Shimla was at 4.7 degree Celsius.
Kufri saw a minimum temperature of 2 degree Celsius and Dalhousie was at 3.4 degree Celsius.
Snowfall
Higher reaches of Himachal received fresh snow yesterday
Higher reaches of the state including Lahaul-Spiti, Kinnaur and Kullu districts received a fresh spell of snowfall yesterday.
Following the heavy snow, Rohtang Pass was closed for traffic, an official of the Lahaul-Spiti district said.
About 10 cm snowfall was recorded in Rohtang Pass, 4 cm in Koksar, Sisu, and Gondola, while Kalpa received 3 cm snowfall.
Time to pack your bags?