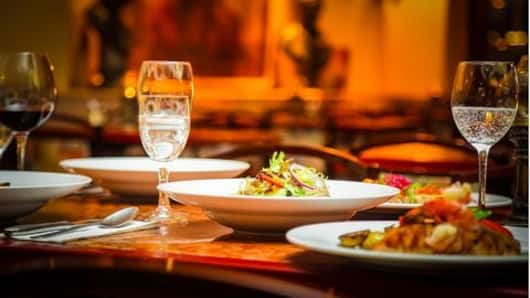 Pune: Restaurants now serve half-filled glasses of water, reason's praiseworthy
A drop saved is a drop earned.
Haven't we all heard of this phrase? But it seems restaurateurs in Pune are taking it a tad bit seriously, for they have now started serving half glasses of water to guests.
Also, they would not fill up the glasses, until asked for.
Some have also installed automatic sensors in washroom taps to restrict water flow.
Pune Restaurant and Hoteliers' Association working out an extensive plan
All these measures have been taken by around 400 restaurants in the Maharashtrian city to help it tackle the looming water crisis.
The move also comes after the civic authorities announced cuts in water supply in October.
Apart from these immediate actions, the Pune Restaurant and Hoteliers' Association is also working out an extensive plan to save water, said its president Ganesh Shetty.
'The leftover water is recycled and used for cleaning floors'
Throwing light on the development, Shetty, who owns Kalinga Restaurant said, "We serve only half glasses of water and we don't refill unless asked. The leftover water is recycled and used for cleaning floors."
He also confirmed that many restaurants have installed new toilets to conserve water, adding, "We have put in water harvesting plants and the staff is briefed on minimizing water use."
Love India news?
Stay updated with the latest happenings.
Yes, notify Me
By serving half-filled glasses, Shetty saves 800L of water daily
Shetty's eatery has a footfall of 800 patrons per day and through serving half-filled glasses, he is able to save roughly 800 liters of water a day, which is incredible. "We had done something similar two years ago when there was a drought," he informs.
This Koregaon Park lounge has installed smart taps
A lounge in Koregaon Park has redecorated its toilets and they are now equipped with smart faucets.
These type of taps "use automatic sensors to detect the need for water flow," said the lounge owner.
"We cut down the time for which this water can flow from the tap by half, since the water cuts were announced by the Pune Municipal Corporation," he added.
This eatery also serves water in smaller glasses
Taking a step further, Kishor Sarpotdar, owner of 83-year-old Poona Guest House, has installed shorter steel tumblers replacing the taller ones that were there earlier. His food joint not only follows the half-filled glass theory but they're also serving water in smaller glasses, he says.
Water crisis is relatively new to Pune
This isn't the first time Pune has faced a water crisis.
Two years ago, when the city was hit by shortage, the water supply was reduced by half for February and March.
"We got water once in two days," recalls Shetty. But still, this type of crisis is relatively new in Pune, as it is well served by the Khadakwasla dam built in 1878.
Water cuts are usually implemented in February or March
Moreover, the water cuts are usually ordered by Pune Municipal Corporation (PMC) in February or March.
This is the first time PMC has imposed water cuts this early.
"Last time, when such water cuts were imposed, we had to rely on tankers for even for the basic water requirements — like for dishwashing. We may have to do that again this year," Shetty said.
'This year, Pune received excessive rainfall. Where's the water gone?'
City-based water conservation expert, Col Shashikant Dalvi, wondered if "panic buttons have been pressed in October itself, how will we face the challenge in the summer months?"
The 2016 crisis was because of deficient rainfall, he says.
"But this year, Pune had excessive rainfall until the end of July. The dams were full. So where has the water gone," a flustered Dalvi asked.
PMC issues guidelines for water resorts, citizens, car garages
Apart from water cuts, PMC has taken some other steps to conserve water.
They include encouraging people to install borewells to pump out groundwater and stalling building constructions, which consume a lot of water, for two months.
Car garages have been asked to do only dry servicing and water resorts have been asked not to hold rain dances.
Swimming pools have also been shut.
Dalvi's solutions: Make rooftop rain harvesting, recycling water mandatory
Dalvi too offers some solutions. "Leakages must be plugged, unsustainable over-extraction of groundwater must stop, rooftop rain water harvesting and recycling of water must be made mandatory, otherwise shortages would get more critical," he says. Hailing the restaurant move, Dalvi said, "It's an excellent idea."