Army-officer, who oversaw surgical-strike, says 'overhype' and 'politicization' didn't help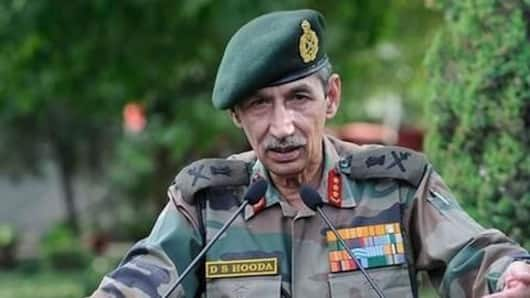 The overhype of 2016 surgical strike and politicization of army operations isn't a good thing, said Lt General (retired) D S Hooda, who was the Northern Army Commander when the attack happened.
On Friday, Hooda said too much talk happened on both sides regarding the operation and it was not good.
The Indian Army's surgical strike was in response to Uri attack by Pakistan.
In context
Overhype around surgical-strike wasn't good, says former Army-chief
What he said
Army operations shouldn't be politicized, says Hooda
Hooda was moderating the Role of Cross-Border Operations and Surgical Strikes discussion at the ongoing Military Literature Festival.
"Did the overhype help? I say, completely no. If you start having political resonance in military operations, it is not good," he said.
About another such attack Hooda, who saw the live-feed of operation which demolished terror launch pads, said 'success has its burden'.
Silence is better when it comes to Army operations
"Because it has been so overhyped, will it impose caution on leadership. What happens if it does not have the same level of success? It may impose some caution in future. If we had done it quietly, it would have been much better," he said.
Love India news?
Stay updated with the latest happenings.
Notify Me
Another top army officer agrees with Hooda
GOC Northern Command, Lt Gen Ranbir Singh on General (retired)DS Hooda's remark 'I think there was too much hype over surgical strike': Surgical strike is one of the options available to Army. It had a positive effect on country,we've been able to curb terrorism to a great extent pic.twitter.com/yL2DkwwSiT

— ANI (@ANI) December 8, 2018
Containing terrorism
Further, Hooda said purpose of operation was pretty simple
When Hooda was told the attack didn't do much and Pakistan is continuing with its terrorist activities, he said the operation was simple for them.
"There was no thought in our mind that Pakistan will stop doing Uri-like incidents. At least in the Northern Command, there was a simplicity of purpose," he said.
He added Army establishments were being attacked since 2013-end.
We had to do something after Uri: Hooda
"We walked in three-inch-deep ashes of the camp which had been attacked. There was no doubt in our mind that we had to do something. You may call it revenge but in our mind, this had to be done," he added.
Aftermath
But he explained there was some of panic
He then went on to add that after the attacks there was a sense of panic across the border.
Hooda said, "Their leaves were canceled. We caught their chatter on the radio. There was talk that we might repeat it in some area."
The ones on the other side were in shock thinking how the Indian Army entered and conducted the operation.
Politics around it
BJP and Narendra Modi have spoken about it a lot
While the Army answered the questions of what they were doing regarding so many deaths, the surgical strike has, unfortunately, found its way in political rallies.
To an extent that Prime Minister Narendra Modi recently said after the operation, Congress was upset.
Congress President Rahul Gandhi said such operations also happened when Manmohan Singh was Prime Minister, but he didn't boast about it.
Will Hooda's statements put a halt on such comments? Time will tell.