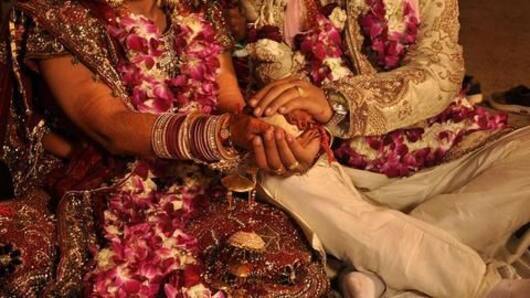 Find an IIT/IIM groom or bride through this matrimonial website
The traditional concept of arranged marriages in India is evolving, with different matrimonial websites emerging these days.
For a narrower approach, some websites offer rishtas catering to a particular field of interest, such as defense, engineering or medical.
But did you know there is a matrimonial website, where you can find a match exclusively from IIT or IIMs? That's right!
Here's more.
Website caters to the crème-de la-crème, because 'alma mater matters'
IITIIMShaadi.com is a website where you can find a groom or a bride who is a graduate of top educational institutes, India or abroad.
The field isn't limited to only engineering or management. To register one can be from law, finance, medical or fashion designing, but one has to be an alumnus of the top colleges of their field.
Because alma mater matters.
Website launched by a management graduate four years ago
The website was launched in 2014 by Taksh Gupta, graduate of SP Jain School of Global Management.
When Gupta's family was looking for a match for his cousin brother, a product of BITS-Pilani and IIM-B, the idea of creating IITIIMShaadi.com hit Gupta.
And, Gupta has a strong reason to back it up. He says highly educated individuals desire a companionship of the matching intellect.
Love India news?
Stay updated with the latest happenings.
Yes, notify Me
Website team checks mark sheets, records, IDs of every entry
The website has been launched not just in India but in 20 other countries as well.
There is also a thorough screening of profiles and Gupta's team checks every entry's mark sheets, records, and IDs to eliminate fake profiles.
Interestingly, the website also has a section of success stories.
Last year, there were 8,000 active members, and those awaiting authentication were about 25,000.
Website received lot of criticism from feminist groups
However, it wasn't an easy start for the website.
It received a lot of flak, mostly from Feminism in India.
In an open letter, an activist said there were lower entry requirements for women in the website in order to widen the pool for men to choose from.
Many others criticized asking why there had to be a matrimonial website only for India's top-colleges.
'People with similar backgrounds understand each other's work, living styles'
But, for Gupta, the idea is simple - to find partners for highly educated individuals with compatible minds.
Gupta feels people's needs have changed while choosing partners.
"Marriage is between two hearts and two bodies but also two minds. High education makes one open to accept the differences. People with similar educational background understand each other's work and living styles," he said.
Gupta says intention was only to create a niche service
Gupta also stressed that the intention of IITIIMShaadi.com was never to hurt or disrespect anyone but only to create a niche service.
It's fascinating to see these types of modern criteria of arranged marriages overtake the traditional ones like caste, community, and religion.
The idea of selecting a partner who understands your work, thinking and lifestyle can certainly be the right approach for people.