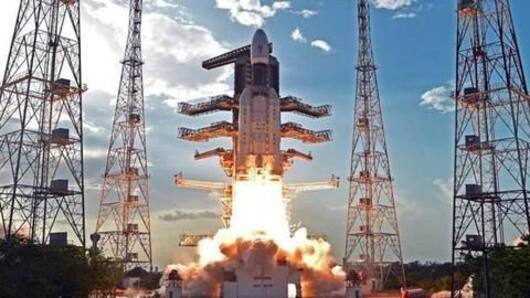 ISRO launches "Angry Bird" satellite to boost defense communication capabilities
The Indian Space Research Organization (ISRO) has successfully launched the GSAT-7A military communications satellite to boost the defense forces' communication capabilities, particularly the Indian Air Force.
Geosynchronous Satellite Launch Vehicle GSLV-F11 carrying the GSAT-7A onboard lifted off at 4:10pm as scheduled from the Second Launch Pad of Satish Dhawan Space Center in Andhra Pradesh's Sriharikota.
Here's all about GSAT-7A, dubbed as "Angry Bird" satellite.
GSLV-F11 will inject GSAT-7A into Geosynchronous Transfer Orbit
GSAT-7A was injected by GSLV-F11 into a Geosynchronous Transfer Orbit (GTO). The advanced satellite was then placed in its final Geostationary Orbit (GEO-Geosynchronous Equatorial Orbit), using onboard propulsion system. GSAT-7A will take a few days to reach the orbital slot after separating from the launcher.
Interestingly, this is ISRO's 17th mission this year and 69th rocket launch from the spaceport of Sriharikota.
Love India news?
Stay updated with the latest happenings.
Yes, notify me
About the GSLV-F11 satellite launch vehicle
According to the Indian space agency, "GSLV-F11 is ISRO's fourth generation launch vehicle with three stages. The four liquid strap-ons and a solid rocket motor at the core form the first stage."
"The second stage (of GSLV-F11) is equipped with high thrust engine using liquid fuel. The Cryogenic Upper Stage forms the third and final stage of the vehicle," it added.
Why is GSAT-7A important for Indian Air Force?
GSAT-7A, the 2,250kg operational communications satellite, is built exclusively for the Indian Air Force.
It will enhance the Air Force's warfare capabilities and also give a boost to its global operations.
It will interlink all of IAF's assets, including planes, AWACS (Airborne Warning And Control System) aircraft and early warning control platforms, drones, ground radar stations, and air bases, to build a centralized network.
GSAT-7A to provide communication capability to users in Ku-band
"GSAT-7A Spacecraft is configured on ISRO's standard I-2000 Kg (I-2K) Bus. The Satellite is built to provide communication capability to the users in Ku-band over the Indian region," ISRO stated on its website. Ku is a frequency band.
GSAT-7A to change the way Indian armed forces communicate
GSAT-7A is the 35th Indian communications satellite built by ISRO. Along with other communication satellites -GSAT-6 and GSAT-7- the GSAT-7A will revolutionize the way the country's defense forces operate and communicate.
Though GSAT-7A is primarily built for IAF, the Indian Army would also use its bandwidth.
The IAF will use 70% of the GSAT-7A network while the rest would cater to the Army's needs.
GSAT-7A to add a much-needed punch to IAF's arsenal
"This (GSAT-7A) is a sophisticated satellite made to the specifications of the user...it can even help connect with handheld devices, flying objects even in remotest of places," ISRO Chairman K Sivan was quoted as saying by NDTV.
"This will add a much-needed punch to the arsenal of the Indian Air Force," said Air Vice-Marshal (Retd) M Bahadur, Additional Director-General, Center for Air Power Studies.