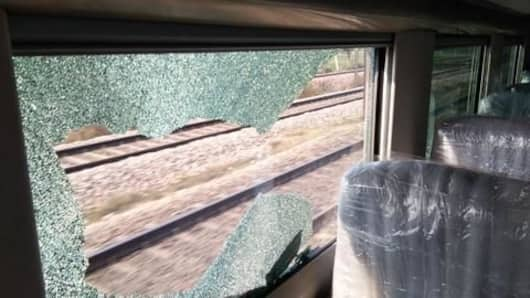 Train 18, first engineless-train, vandalized on trial-run. Incredible India much?
The Indian government, famous for not catering to the demands of the public, decided to change it and gift the country its first engineless train.
Train 18, which is laced with state-of-art facilities, is pegged to replace Rajdhanis and Shatabdis in the future.
So one would expect Indians to open this new locomotive with open arms. But what did we do instead? We vandalized the train. Because we can (?).
Traveling from Delhi to Agra, train was pelted with stones
On Thursday, the train, which has the ability to hit a speed of 180kmph, embarked on a trial journey from Delhi to Agra.
Srinivas, the Chief Design Engineer of ICF (Integral Coach Factory where the rakes were built), touched the 181 kmph mark for record's sake.
Midway in the trial run, a vandal hit the train with a stone which broke a glass window.
Stones were pelted at the train
Train 18 running at 180 km/h bet Delhi and Agra at this time...Srinivas, the Chief Design Enginner of ICF is in the cab, they touched 181 kmh for record sake 😊...some vandal threw a stone breaking a glass, hope we nab him. pic.twitter.com/YXpqUS6qqC

— ManiSudhanshu (@ManiSudhanshu58) December 20, 2018
Love India news?
Stay updated with the latest happenings.
Yes, notify me
People advised to not harm public property
G V Venkatesan, the spokesperson of ICF, said such acts of vandalizing public property like trains, stations, are condemnable.
He expressed remorse that a prestigious brand like Train 18 was vandalized. He urged people to refrain from indulging in such activities, especially when the locomotive was built to make their lives easier.
Meanwhile, officials have launched an investigation in the case.
The train's facilities will ensure a luxurious journey
For years now, Rajdhanis and Shatabdis have been our best bet when it comes to luxurious trains and Train 18, with its 16 coaches, has all in it to unseat them.
Its features include Wi-Fi facility, CCTV cameras, GPS-based passenger information system, infotainment system, automatic doors, roller blinds, automatic temperature control, LED lighting, charging points at every seat, and touch-free bio-vacuum toilet among others.
In fact, Piyush Goyal wanted more of such rakes
Impressed by the success of Train 18 in trial runs, Railway Minister Piyush Goyal asked ICF to build four similar rakes.
Notably, the train is supposed to be flagged by Prime Minister Narendra Modi on December 29.
It is expected to leave Delhi at 6 AM and reach Varanasi by 2 PM. The train will return to Delhi on the same day.
Congratulations, fellow Indians, you have outdone yourself this time
The scenes of monkey nuts' wrappers adorning floors of trains are not something which Indians aren't aware of. We have a penchant for turning train coaches into a bin, ruining the seats, and stealing mugs from toilets.
But this time, we have reached a new height. Because what's more important than high-speed trains? Vandalizing them, of course.
India is truly incredible.
What is Train 18?
Asked 2018-12-21 12:14:43 by Harini Balasubramanium
Answered by NewsBytes
Train 18 is the first engine-less train in India. It is set to become the country's fastest after breaching the 180kmph mark during a test run on the Kota-Sawai Madhopur section.
When will Train 18 be rolled out?
Asked 2018-12-21 12:14:43 by Rishika Shah
Answered by NewsBytes
Prime Minister Narendra Modi is supposed to flag the train on December 29.
What happened on Train 18's trial run?
Asked 2018-12-21 12:14:43 by Surabhi Rangan
Answered by NewsBytes
In its trial run from Delhi to Agra, Train 18 was vandalized. Stones were pelted at it and a glass window was broken.
What did authorities say about this incident?
Asked 2018-12-21 12:14:43 by Aanya Jindal
Answered by NewsBytes
An investigation has been launched. ICF asked people to not indulge in such activities.