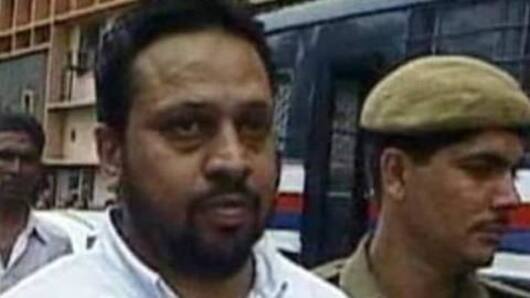 1995 'tandoor' murder case: Killer Sushil Sharma released
On Friday, the Delhi High Court ordered the immediate release of former Congress youth leader Sushil Kumar Sharma, who had been convicted of murdering his wife Naina Sahni in 1995, in what came to be known as the 'tandoor' murder case.
Earlier this week, the Delhi HC had questioned whether a person could be kept in jail indefinitely for murder.
Here's more.
The infamous tandoor murder case
On July 2, 1995, Sharma shot and murdered his wife Naina, over suspicions that she was having an extramarital affair with another man.
Allegedly, Sharma then chopped up Naina's body, took it to a restaurant called Bagiya, and tried to dispose of her remains by putting it into the restaurant's tandoor oven.
The case consequently came to be known as the tandoor murder case.
In 2013, the SC commuted Sharma's death sentence
After fleeing initially, Sharma surrendered to authorities on July 10, 1995.
Subsequently, he was awarded a death sentence by a sessions court in 2003.
Sharma appealed the court's verdict in the Delhi High Court, but the Delhi HC upheld the decision.
The case then went to the Supreme Court, which, in 2013, held Sharma responsible for the murder, but commuted his death sentence to life imprisonment, citing lack of evidence.
Love India news?
Stay updated with the latest happenings.
Yes, notify Me
Why the SC had commuted Sharma's death sentence
The SC's decision to commute Sharma's death sentence stemmed from the fact that it did not find evidence that Sharma had chopped Naina's body up. Additionally, the SC ruled that Naina's murder was motivated by a strained personal relationship, and was not a crime against society.
Sharma was entitled to release under SRB guidelines
After spending almost 29 years in prison, Sharma had sought premature release in accordance with Sentence Review Board (SRB) guidelines.
Sharma's lawyer had argued that SRB guidelines on premature release state that convicts given a life sentence should be released after 20 years of incarceration, while life convicts who had committed heinous crimes should be released after 25 years of incarceration.
Delhi HC found the SRB's argument to be flimsy
The SRB, however, had dismissed Sharma's pleas for premature release on the grounds of the 'brutality' involved in Naina's murder.
However, the Delhi HC found the SRB's argument to be flimsy, stating that the Supreme Court had found no evidence that Sharma had chopped up Naina's body.
Consequently, the Delh HC had questioned if a person could be imprisoned indefinitely for murder.