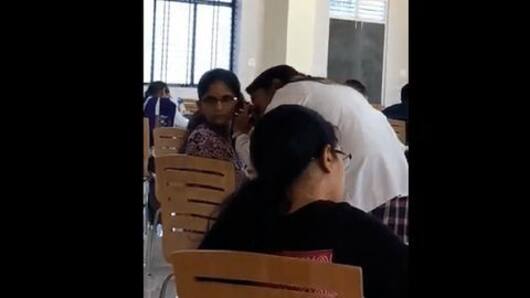 Medical entrance exam invigilators check for Bluetooth-devices in students' ears
Indians are an expert in the jugaad system, especially during exams.
Cheaters and their ingenious ideas have often inspired Bollywood movie scenes, like the one in Munna Bhai MBBS. Or vice versa.
However, to prevent such unethical ways, invigilators are now going an extra mile.
In a recent video shared on Twitter, medical entrance exam invigilators were seen checking students' ears for hidden Bluetooth-devices.
Invigilators 'medically' checked students' ears using Otoscope
Yesterday, Raju Narisetti, former CEO of Gizmodo Media Group, tweeted a video of an ongoing medical entrance examination.
In the video, exam invigilators could be seen using a not-so-heard device called Otoscope in the ears of students to check for small Bluetooth ear-buds, which might help students receive exam answers from outsiders.
Needless to say, the video went viral in no time.
Watch how prudent invigilators can be
In India, where the annual medical entrance exam is a huge hurdle for tens of thousands, see how monitors walk around checking ears of students for hidden, small bluetooth ear-buds that might be used to relay exam answers from outsiders. #jugaad pic.twitter.com/hBFyc0L6fK

— Raju Narisetti (@raju) December 20, 2018
Love India news?
Stay updated with the latest happenings.
Yes, notify Me
Video got netizens talking, some were fascinated by invigilators' technique
The video got many netizens talking with comments ranging from downright cynical to outright comical.
Netizens were amused as one wrote, "They missed the Morse code shoe implants."
The video also caught the eye of Emily Le Coz, a national data project editor for a foreign publication, who was fascinated by the video.
And one netizen, like us, wondered, "Who recorded the video?"
Can't blame invigilators, cheating in India is quite organized
Credits:
We wouldn't blame the invigilators for taking such steps to prevent cheating in exams.
Cheating in India is organized, elaborate and done with calculated risks.
The levels of malpractice in exams in India has grown drastically and one will be shocked to know the kind of ways used to cheat.
Some of them include passing chits, answer-sheets, camera-Bluetooth headset in shirts and bras.
Cheating mafia is a messiah for desperate students
Interestingly, there is also a so-called 'cheating mafia' which profits from such desperation of students.
Students are asked to secretly take photos of question papers. Use the washroom to send them to a 'number', and answers appear on their screen within minutes.
Notably, these 'numbers' are bought for a price of around Rs. 16,000 and such gangs have a big network throughout the country.
In 2015, 300 people climbed exam-center's wall to pass notes
While these are discreet methods to clear the exam, India also has cases where students have cheated openly.
In one of the biggest cases, which made headlines globally, was the Bihar malpractice case of 2015.
Over 300 people blatantly climbed the walls of the exam center and passed not just notes but textbooks to students during examination time.
Such methods, much wow!