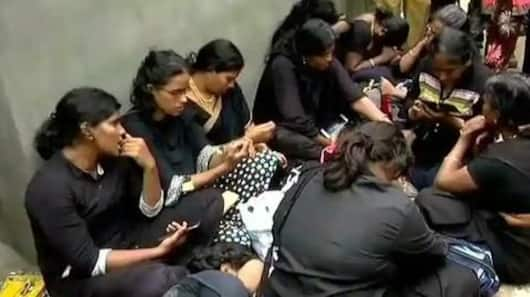 #SabarimalaStandoff: Despite police deployment, women couldn't enter Ayyappa shrine
In yet another failed attempt, 11 women who were on their way to Sabarimala Temple in Kerala returned without paying respects to Lord Ayyappa.
The women faced angry protesters at Pamba, the foothills, and some claimed their irumudi offerings kits, which Ayyappa devotees carry on their heads, were snatched by men.
The women, aged between 10-50, belonged to Chennai-based Manithi outfit.
Here's what happened.
Women were not given kits by priest
U Thilagavathi, a young devotee told NDTV that the priest at Pamba refused to give them irumudi.
"We are Lord Ayyappa's sisters... we are determined to pray at Sabarimala and women have equal rights," she said.
She also said they kept fast and police promised to provide them protection.
But as the protest continued to rage on, the women were forced to return.
Women evicted from base camp, they say police failed them
Following a huge face-off with protesters, police asked the group to evict the base camp. But the women remained adamant.
One of them said the police failed them and they would not leave without offering prayers.
Meanwhile, the protesters turned aggressive and five of them were detained. They said they wouldn't allow women to enter the shrine of Ayyappa, who's believed to be celibate.
Love India news?
Stay updated with the latest happenings.
Yes, notify Me
We can't use force, tells police officer
Shaji Sugunan, Special Officer, Law and Order, Pampa: 11 women devotees had come to offer prayers at #SabarimalaTemple but they were stopped by other pilgrims. The women devotees have returned now. We can't use force. It might create a law and order problem. pic.twitter.com/n4niymysY2

— ANI (@ANI) December 23, 2018
Women hoped Ayyappa would protect them
Ahead of the trek, Selvi, the coordinator of Manithi said, "Since we are a larger group, we hope we would be able to enter Sabarimala. Most of us are between 20 and 30 years old."
She said some women believed they might not live beyond 50 to visit the temple.
About the protests, she had said, "Swamy Ayyappa will protect us."
Separately, Subramanian Swamy said Naxal-minded people are instigating women
Wading into the controversy, BJP MP Subramanian Swamy claimed Naxal-minded people were instigating women.
"I think we must take them to be troublemakers probably inspired by Naxal forces who hate Hinduism. Action should be taken by the communist government," he said.
The Supreme Court allowed women's entry into the Ayyappa temple in October this year, saying the rule discriminated against women.