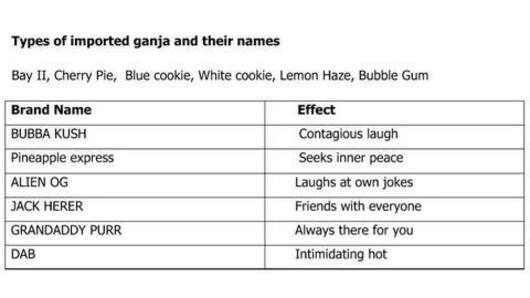 When Delhi Police decided to educate people about 'ganja'
Ahead of the New Year celebrations, the Delhi Police did a commendable job and busted an international ganja racket involving items such as marijuana, marijuana oil and wax imported from the US.
However, when the police gave the press release to the media, the information received was a little too helpful to identify the cannabis and was pretty amusing to read.
Here's why.
Police recently arrested two traffickers with Rs. 2.7cr worth ganja
On December 26, Delhi Police, after they received information through a tip-off, apprehended two cannabis trafficker Sahil, 25, and Ridham, 22.
The cannabis weighed 11.67 kgs and their estimated cost in the international market is Rs. 2.7 crore.
The accused used to communicate through the Dark Web website, as it is safe and the payments were made through bitcoins.
India imports six types of ganja from the US
Soon, after the bust, Delhi police released a detailed press release.
The nature of the press release is laudable, and can be considered as a New Year gift for all those who have doubts about cannabis.
The release mentions different types of cannabis and that its consumption is skyrocketing during the New Year week, adding India imports six types of ganja from the US.
Love India news?
Stay updated with the latest happenings.
Yes, notify me
Smoke 'Alien OG' and you'll laugh at your own jokes
Credits:
It appears that the names of the ganja were inspired from sugary delicacies as some are called Cherry Pie, Blue cookie, Whitecookie, Lemon Haze and Bubble Gum.
Also, there are some like 'Bubba Kush', which can give you a 'contagious laugh' or 'Alien OG', which makes someone 'laugh at his own jokes.'
Want to 'seek inner peace'? Ride on 'Pineapple Express'
Also, cannabis like 'Pineapple Express' lets one 'seek inner peace.'
There is another called 'Jack Herer' that makes one wanting to be 'friends with everyone' and another termed 'Grandaddy Purr' that will make one extra friendly and behave like he or she is 'always there for you.'
And, stay away from cannabis named 'DAB' as that will make one feel 'intimidating hot.'
And, mind you, these cannabis are super costly
Talking about money, these imported cannabis aren't cheap.
A mere 50 gm of cannabis wax, which is an opaque oil, with high percentage of marijuana THC content, cost Rs. 1,00,000.
500 mg of shatter or glass extracts, which makes you high for a long-lasting period, will cost Rs. 50,000.
And, 50 g of Malana Cream Charas will cost Rs. 50,000.
What is marijuana?
Asked 2019-01-02 00:38:14 by Ridhi Kapoor
Answered by NewsBytes
Marijuana is a cannabis which is a psychoactive drug used for medical or recreational uses. It also has mental and physical effects such as heightened mood, change in perception, or an increase in appetite.
Is marijuana legal in India?
Asked 2019-01-02 00:38:14 by Chirag Chauhan
Answered by NewsBytes
No, selling, consuming or smoking marijuana is a criminal offense under the Narcotics Act.
What is Bubba Kush drug?
Asked 2019-01-02 00:38:14 by Devansh Singh
Answered by NewsBytes
Bubba Kush is a cannabis known for his severe tranquillizing effects. According to a press release by Delhi Police, Bubba Kush can cause contagious laughter.
What is Pineapple Express drug?
Asked 2019-01-02 00:38:14 by Ishan Gupta
Answered by NewsBytes
Pineapple Express is another form of cannabis, which is a high-grade form of marijuana and is extremely rare.