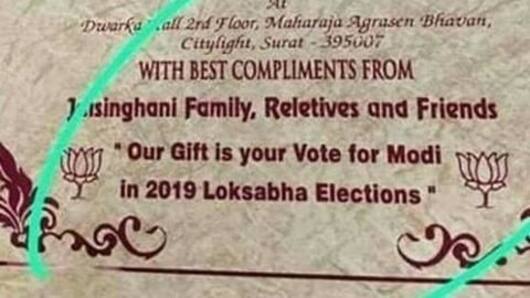 'Vote for Modi as gift to newlyweds', reads wedding card
How far can you go to support your favorite political leader? Attend his/her election rallies at the maximum?
Will you really ask guests invited to your kin's wedding to vote for that leader?
Well, this Gujarat family did exactly that.
A Surat-based family, on their son's wedding invitation card, has asked guests to vote for PM Modi, as a wedding gift to the newlyweds.
Another invite with similar appeal doing rounds on social media
The wedding invitation read, "Our gift is your vote for Modi in 2019 Lok Sabha Elections."
The invitation has since gone viral on Facebook.
Along with this card, another similar wedding invitation is making rounds of social media.
A Mangalore-based BJP supporter shared the picture of a wedding card, which had similar appeal for guests to support Modi in 2019 elections.
The vote appeal had BJP's lotus symbol on the card
Love India news?
Stay updated with the latest happenings.
Yes, notify Me
Man had printed Modi government's accomplishments on his wedding card
Not just asking guests to vote for Modi, one wedding invitation card even had all the accomplishments of Modi government imprinted.
The card attached to a tweet by one Bhushan Branson, tagged Modi, and was captioned, "Sir. With my wedding invitation card, I am trying to explain the lot of achievement, schemes by Modi Govt. & Urging all invitees get the use."
'We've to take care of Modi, he'll care for nation'
@narendramodi Sir. With my wedding invitation card, I am trying to explains the lot of achievement, schemes by Modi Govt. Urging all invitees get the use. Hand to hand helping them to get the max.benefit . I believe "We have to take care of Modi, Modi will take care of nation. pic.twitter.com/tZcgdX7uUw

— Bhushan Branson (@mf5245pd) January 3, 2019
Previously, Modi retweeted card with 'Swachh Bharat Abhiyan' logo
When Modi had launched Swachh Bharat Abhiyan in 2014, it resonated with all and was appreciated by many.
Lending support, a Bengaluru-based family, in 2017, printed the logo of the campaign on the wedding invitation card of their daughter.
Interestingly, when a family member tweeted the card, his post was retweeted by none other than PM Modi himself.
Not just logo, family also provided ample dustbins at venue
The card was tweeted out by one Jain family, current residents of Karnataka, who are die-hard Modi supporters.
Kantilal Jain, the family's head, is known as the Modi of Mysuru because of his uncanny resemblance to the PM.
Not only he made sure the logo was printed on the card, he also provided dustbins at every corner of the venue to promote the mission.
Jains educated their daughters inspired by Modi's Kanya Kelavani Yojna
Before shifting to Karnataka, the Jains lived in Gujarat for 8 years.
When Modi was its CM, he had launched Kanya Kelavani Yojna, a prototype of Beti Bachao, Beti Padhao Andolan.
Inspired by that, the Jains started to educate their daughters instead of marrying them off.
Pratiksha, the one who was getting married, now works for Infosys, and her younger sister is with KPMG.