India
India, Japan ink Civil Nuclear Agreement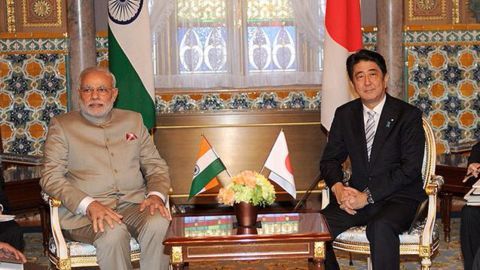 After months of uncertainty, India and Japan finally signed the much awaited bilateral Civil Nuclear Co-operation Agreement.
India's foreign ministry spokesperson Vikas Swarup took to Twitter calling it "A landmark deal for a cleaner, greener world!"
Addressing business leaders at the India-Japan Business Leader's Forum in Tokyo, PM Modi added that India was pursuing policies to become the world's "most open" economy.
In context:
PM Modi's visit to Japan
Details

PM Modi's visit to Japan
Prime Minister Narendra Modi is scheduled to go on a 3-day visit to Japan, to attend the annual summit meeting with his Japanese counterpart Shinzo Abe.
During the visit, Modi would meet the Japanese Emperor Akihito, visit Kawasaki Heavy industries in Kobe, accompanied by PM Abe. This is where the high speed rail is manufactured.
Several key agreements are also to be likely signed.
2nd visit in two years

This is Modi's second Japan visit and his meeting with Shinzo Abe will be the eighth between the two leaders, since assuming the office as PM in May 2014.
Love India news?


Stay updated with the latest happenings.
11 Nov 2016

Key aspects of the bilateral talks
The bilateral talks covered various aspects including defence co-operation, joint maritime exercises between Japan, India and the US, etc. South China Sea could also figure in the talks.
The $1.5 billion deal on supply of amphibious rescue aircraft US-2 to the Indian Navy, and the civil nuclear agreement will be the highlights of the talks between the two prime ministers.
Nuclear Co-operation

Civil Nuclear Agreement
Negotiations for civil nuclear deal began in 2010 and an MoU (Memorandum of Understanding) was reached between the countries in December 2015, during PM Abe's visit to India.
The deal once signed, allows Japan to sell nuclear technology to India. It has been held up for years over "termination" clause which stipulates that the deal will be suspended if India conducts a nuclear test.
Moratorium on nuclear testing

India declared a voluntary moratorium on nuclear testing since its last explosions in 1998. Japan, the only country to have suffered a nuclear attack, sought assurances from India that it would not conduct nuclear tests anymore.
11 Nov 2016

India, Japan ink Civil Nuclear Agreement
Love India news?


Stay updated with the latest happenings.
12 Nov 2016

India, Japan talk about South China Sea and Chabahar partnership
PM Modi and the Japanese PM Shinzo Abe brought up the issue of China's illegal occupation over the South China Sea (SCS).
Despite China's warning, India and Japan reiterated the importance of United Nations Convention on the Law of the Sea in fixing SCS disputes.
The two PMs also talked about the hope of working on the Chabahar port in Iran.
13 Nov 2016

India wont be a 'pawn' for Japan's agenda
China's state run media took another swipe at the growing India-Japan bonhomie, saying India can not become a "pawn" for Japan to contain China.
The article which appeared in Global Times, accused Japan of exploiting Sino-Indian ties in an attempt to exert more pressure on China.
However, there has been no official response from China on the matter so far.