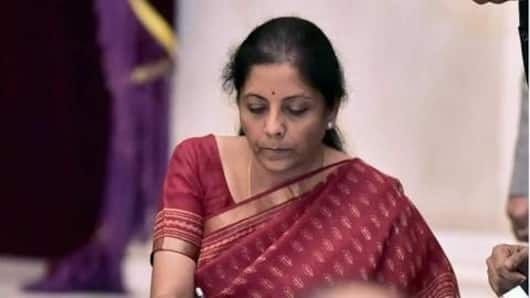 HAL didn't receive orders claimed by Sitharaman; Congress alleges falsity
While defending the Rafale deal, Defense Minister Nirmala Sitharaman had accused the Congress of shedding false tears for Hindustan Aeronautics Limited (HAL), and had claimed that the NDA government had drawn up contracts worth Rs. 1 lakh crore for HAL.
However, HAL officials have said that no orders have been signed, and not one rupee has come their way.
Meanwhile, Congress has accused Sitharaman of lying.
What Sitharaman had said in the Lok Sabha
"Congress is only shedding crocodile tears on the HAL not getting the offset contract as it did nothing to scale up the capacity of the state-run firm. The BJP-led NDA government gave Rs. 1 lakh crore worth of contracts to HAL," Sitharaman had said in the Lok Sabha.
Details of orders, as claimed by Sitharaman
Credits:
The Defense Minister had given details, saying that the orders were "in the pipeline".
Of the Rs. 1 lakh crore, orders for 83 LCA Tejas fighter jets account for Rs. 50,000cr, while orders for 200+ helicopters account for a total of Rs. 35,000cr, Sitharaman had said.
Orders for 15 combat helicopters worth Rs. 3,000cr, 19 Dornier transport aircraft worth Rs. 3,400cr, and aero engines worth Rs. 8,400cr made up the rest.
Love India news?
Stay updated with the latest happenings.
Yes, notify Me
What HAL said about the claimed orders
However, HAL had a different story.
Speaking to TOI, senior management officials from HAL said that no actual orders have been placed so far, and not one rupee of the claimed Rs. 1 lakh crore has come its way.
The only order placed with HAL under the NDA regime has been for 73 advanced light helicopters at a cost of Rs. 70cr each.
HAL officials: Cannot mislead shareholders when we don't have orders
"HAL is a listed company...You are free to verify our order books, where you will find not a single rupee of the Rs. 1 lakh crore has come to HAL...We have a responsibility to shareholders who cannot be led to believe we have orders when we don't," HAL officials told TOI.
Some details about specific deals
Going into specifics, HAL officials further said that the orders for the LCA Tejas fighters were still in the request for quotation (RFQ) stage.
Another order, involving Kamov helicopters, was also in the RFQ stage, and was a joint venture with Russia in which HAL would have little role to play.
Meanwhile, no order for Dornier aircraft or engines have been placed yet.
Defense forces owe HAL Rs. 15,700cr
Reportedly, the acceptance of necessity, as part of the initial approval, along with clearance from the Defense Acquisition Council (DAC), have been completed for some of the deals. However, no actual orders have been placed yet.
This, of course, puts cash-strapped HAL in a tough spot - for the first time in decades, HAL was forced to borrow Rs. 1,000cr to pay salaries as Rs. 15,700cr worth of dues from the Indian Air Force and Army remain uncleared.
Congress has been quick to attack Sitharaman
Reacting to these reports, the Congress has been quick to launch an attack on the Defense Minister.
While Sitharaman had not claimed the deals to be signed, Congress chief spokesperson Randeep Surjewala has accused Sitharaman of "lying" about the Rs. 1 lakh crore worth of deals.
Further, he has questioned why the government has not cleared its dues to HAL.
Sitharaman reminds RaGa about a caveat
Please read the complete report in ⁦@timesofindia⁩ to which you ( ⁦@RahulGandhi⁩ )are referring: "However, as the LS record shows, Sitharaman did not claim the orders were signed, saying they were in the works." | India News - Times of India https://t.co/2v6MAZ2t3o

— Nirmala Sitharaman (@nsitharaman) January 6, 2019