NCERT to cut syllabus by 10-15% from 2019-20: Details here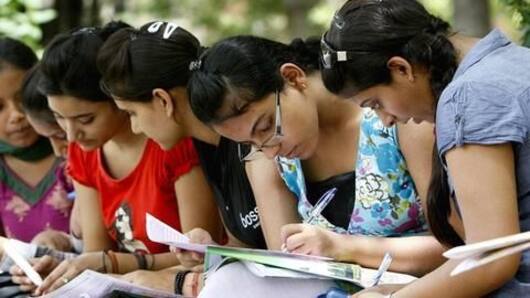 In a huge relief to school children, the National Council of Educational Research and Training (NCERT) has decided to reduce its textbooks' content by 10-15% from the 2019-20 academic year.
The decision was taken as part of the Human Resource Development Ministry-prompted rationalization exercise to relieve students from "curriculum overload". HRD Minister Prakash Javadekar recently made the announcement.
Here's all you need to know.
In context
NCERT textbook content to be reduced from 2019-20
Reduction
Will achieve 50% reduction target by 2021: Javadekar
At an NCERT General Council meeting, Javadekar said, "(CBSE) Curriculum will be reviewed to ensure holistic education in which there will be time for physical education, value education, life-skills education, and experiential learning."
"We have decided to reduce curriculum by 50%. This year, there will be 10-15% reduction. Next year, it will be more. Finally, in 2021, the target will be achieved," he added.
Curriculum overload
HRD Minister says curriculum will be reduced by 50%
From the 2019-20 academic year onwards, the NCERT curriculum content will be decreased by 10-15% in the first step towards cutting down the overall curriculum by 50%, said HRD Minister Javadekar.
As part of the exercise, NCERT would remove all the duplicate and redundant portions, so that students can have concise and crisp textbooks. The HRD Ministry said the curriculum reduction would be scientific.
Love India news?
Stay updated with the latest happenings.
Notify Me
NCERT to publish more textbooks for 2019-20 academic year
Javadekar also said that NCERT will publish more textbooks this year that the last two years. "Two crore books were published two years ago, last year, six crore books were published, and this year, we aim to produce eight crore or more books," he said.
Syllabus
Social sciences syllabus will have more cuts: NCERT official
According to an NCERT official, the social sciences syllabus will see more cuts compared to science, mathematics, and languages.
"Science, mathematics, and the languages do not need much reduction, just some pruning of content here and there," the official told The Print.
Science syllabus for higher classes such as Classes 11-12 doesn't require any reduction as students need more study material, the official said.
Performance indicators
Ministry to assess performance of states based on 70 parameters
The HRD Ministry also aims to take another progressive step by assessing states on their educational performance indicators based on 70 parameters.
"All the states will be assessed on performance indicators based on 70 parameters. This will improve the quality of education and give a fair picture of where each state stands. There will be a healthy competition to improve the performance," Javadekar said.