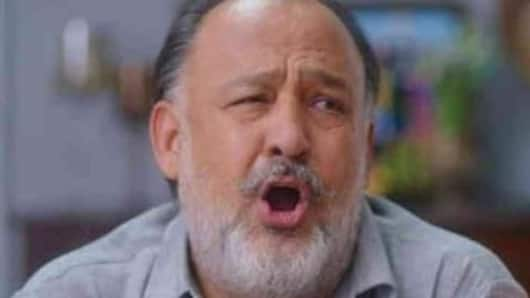 Vinta may have accused Alok Nath for her benefit: Court
The Dindoshi Sessions court, which gave anticipatory bail to Alok Nath on January 5, in a rape case noted the actor could have been falsely implicated by writer-director Vinta Nanda.
Judge SS Oza noted victim may have delayed filing the complaint of rape 'for her own benefit'.
Vinta had filed the case in November last year alleging Alok raped her nearly 20 years ago.
Backstory: In #MeToo storm, Alok bit the dust
In the #MeToo storm, Vinta named Alok and revealed in a long Facebook post he raped her when she was drunk.
After her post shocked everyone and unearthed the ugly side of showbiz, Vinta decided to follow the 'due process'. On the basis of her complaint, an FIR was lodged on November 21, 2018.
But the court questioned the delay in taking legal action.
Here is her Facebook post
Love India news?
Stay updated with the latest happenings.
Yes, notify Me
Vinta remembers series of events, not month: Court
While it was said FIR was vital in the case, the judge noted "promptness in lodging the FIR is an assurance regarding the truth of informant's version."
Judge Oza said Vinta didn't remember the month when it happened but the event's sequence.
"In view of all these facts, the possibility cannot be ruled out that (Nath) has falsely been enroped in the crime," it read.
Court explains why delaying FIR isn't the best idea
"If there is a delay in lodging the FIR, it loses the advantage of spontaneity, danger creeps in of the introduction of colored version, exaggerated account or concocted story as a result of a large number of consultations/deliberation (sic)," said the court order.
Judge sides with Alok, says he never threatened Vinta
Vinta had said she decided against approaching police in 1998, when the incident happened, as Alok was more powerful than her in showbiz business.
But judge Oza noted Alok hadn't threatened Vinta to stop her from reporting the incident.
"Thus, it reveals that applicant did not lodge the report immediately after alleged incident of her own benefit," read the court order according to HT.
After securing bail, Alok says truth will be out soon
Notably, Alok's lawyers had said the case was driven by a personal vendetta. They claimed Vinta had feelings about Alok and since he didn't reciprocate, she took action against him.
After getting bail, Alok said, "I cannot preempt anything right now. But one thing I can tell you. This battle will reach its logical conclusion, and the truth, whatever it is, will be revealed."
When was Alok Nath given anticipatory bail?
Asked 2019-01-09 14:10:46 by Charvi Chattopadhyay
Answered by NewsBytes
Alok Nath got anticipatory bail on January 5.
What did the Mumbai court say?
Asked 2019-01-09 14:10:46 by Navya Yadav
Answered by NewsBytes
The Mumbai court questioned the delay in filing for FIR and said Vinta may have acted for her own benefit.
Why didn't Vinta Nanda approach police years ago?
Asked 2019-01-09 14:10:46 by Aarav Shah
Answered by NewsBytes
Vinta Nanda said she didn't go to police in 1998 as Alok was more powerful than her.
What did Alok Nath say?
Asked 2019-01-09 14:10:46 by Sanvi Rathore
Answered by NewsBytes
Alok Nath said the truth will be out soon.