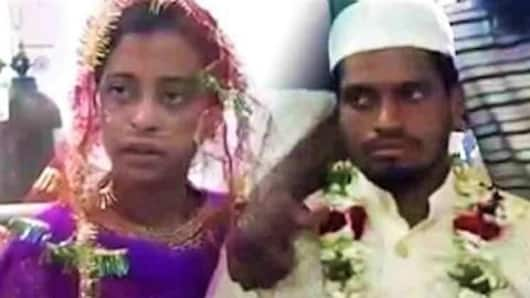 Telangana: Lovebirds who attempted suicide get married in hospital
Some say love is worth dying for, and it seems like one Telangana couple took the saying a bit too seriously.
In a bizarre incident, 20-year-old Reshma, who was in love with 24-year-old Nawaz, attempted to commit suicide when she learnt that she had been promised to another.
On learning about Reshma's condition, Nawaz too attempted suicide.
However, their story had a happy ending.
Reshma decided death was better than life without Nawaz
Reshma had been in a relationship with Nawaz, a distant cousin of hers, and was unsure whether her family would consent to their union.
Then, on Tuesday, she learnt of her family's plans to marry her off to another person.
Unable to bear the pain, Reshma drank pesticide, and was rushed to the Vikarabad Government Hospital in the district.
On seeing Reshma's condition, a distraught Nawaz attempted suicide too
When Nawaz got to know about Reshma's suicide attempt, he rushed to the hospital to visit her.
The 24-year-old broke down seeing his girlfriend in a near-death condition, and he too attempted suicide by consuming pesticide.
Subsequently, he was admitted to the same hospital in a critical condition.
They were later shifted to the Crawford Memorial Hospital in the Vikarabad town.
Love India news?
Stay updated with the latest happenings.
Yes, notify Me
Reshma's doctor understood their predicament, explained it to their families
It was in the Crawford Memorial Hospital that Reshma and Nawaz's predicament came to light.
Reshma opened up about her suicide attempt and her relationship with Nawaz to the doctor who was treating her.
Convinced that there was no other way, the doctor then called up the couple's families, and persuaded them that there was only one solution.
The doctor who got their marriage arranged
"I happened to ask Reshma about her family and she narrated the story. I then called the family and counselled them. Reshma and Nawaz insisted on marriage and her condition was turning serious. The family, fearing another such attempt, agreed to their wedding," Dr. Avinash from the Crawford Memorial Hospital told TNM.
Finally, the couple got married, with IV tubes, respirators attached
The families of the couple soon understood that both Reshma and Nawaz preferred death over life without each other.
Left with no alternative, they arranged for an Islamic wedding in the hospital itself, and on Thursday, Reshma and Nawaz got married, albeit with IV tubes and respirators still attached to their bodies.
What Reshma's relative had to say about the incident
"It's true that we had started looking for prospective alliances, but then, she never told us about this boy. We would never have let things get this far [if we had known]," Shahnaz Bee, a relative of Reshma, told NDTV.
Man and wife are slated to be released on Saturday
Understandably, their story soon got media attention, and a video of their marriage ceremony showing Nawaz in a wheelchair, and Reshma in a bridal gown on the hospital bed, went viral on social media.
Police, meanwhile, did not register any case as the issue was resolved amicably.
Nawaz and Reshma, now man and wife, are slated to be discharged from the hospital on Saturday.