India
Government explores 'electric highways' for India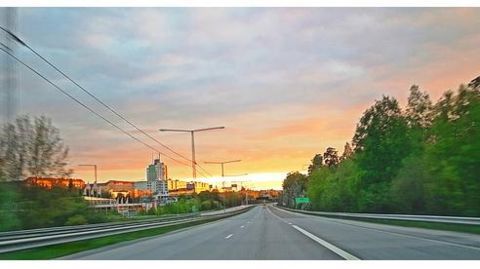 The Indian government has sought proposals from Sweden to explore the feasibility of building an 'electric highway'.
The Scandinavian country recently inaugurated a two kilometre strip on a road near Gavle in Switzerland.
The electric highway was built with the help of technology developed by Siemens.
Sweden's electric highway is the world's first that will enable fossil-free transportation.
In context:
India and Sweden to collaborate on 'electric highways'
Bio-fuel and electric vehicles

Tackling India's mammoth pollution woes
Out of the 20 most polluted cities in the world, 13 are located in India.
Union Transport Minister, Nitin Gadkari, said the BJP government is focusing on promoting bio-fuel, electric vehicles to minimize pollution and bring down transportation costs.
Other government proposals include installing free-charging stations for battery powered 2-wheelers, liberalized permits for 3-wheelers and other incentive schemes for Indian manufacturers of electric vehicles.
Why electric vehicles?

Electric-powered vehicles are believed to have the lowest emissions compared to any other vehicle technology, including natural gas. Electric trucks and buses are four-times more efficient than diesel and natural gas vehicles leading to massive savings in fuel costs.
Love India news?


Stay updated with the latest happenings.
15 Nov 2016

Government explores 'electric highways' for India
How does it work?

Sweden's electric highways
Sweden's electric highways are an outcome of intense collaboration between the Swedish government and private sector.
The 'electric highway' allows trucks to run as 'electric vehicles' on the electrified stretch and then revert back to normal 'hybrid vehicles' off it.
These trucks have been manufactured by Swedish automobile manufacturer, Scania: the trucks are hybrid-vehicles operating on bio-fuel and are Euro 6-certified.
Details

How does the technology work?
The technology developed by Siemens allows electrified trucks to receive power from overhead electric lines with the help of a pantograph power collector mounted on the the truck's frame.
As soon as the truck exits the electric stretch, the pantograph automatically disconnects; the truck then reverts to being powered by either a battery-operated electric motor or combustion engine.
Love India news?


Stay updated with the latest happenings.
England explores electric highway technology

In August 2015, England announced off-road trials of an 'electric highway technology' which could wirelessly charge electric and hybrid vehicles as they drove; this technology would allow low-emission vehicles to travel long distances without needing to stop and charge.