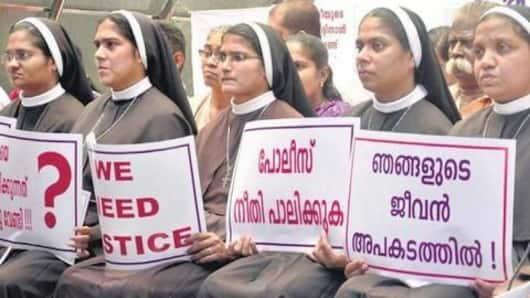 Nuns, who protested against rape-accused Bishop, asked to leave Kerala-convent
Four out of five nuns, who spoke against Bishop Franco Mulakkal, have been asked to leave Kerala convent, claims The NewsMinute.
The nuns had voiced their concerns in an event organized by the Save Our Sisters (SOS) Action Council in September last year after a fellow nun accused Mulakkal of rape.
The incident sparked nationwide outcry, and Mulakkal was arrested months later.
Backstory: Mulakkal was accused of raping a nun multiple times
The horrifying incident came to light last year after the nun went to police to file a complaint against Mulakkal. She claimed the church let her down.
After immense outrage, Mulakkal, who was the Bishop of Jalandhar diocese, was arrested and questioned.
He was interrogated by a SIT for days and he claimed innocence. However, circumstantial evidence pointed towards his guilt.
Let down by church, nuns stood by their colleague
While the victim was shamed and Mulakkal kept giving interviews to news channels, nuns rose to the occasion.
Sister Alphy Pallasseril, Sister Anupama Kelamangalathuveliyil, Sister Josephine Villoonnickal, Sister Ancitta Urumbil, and Sister Nina Rose took part in the protest calling for strict action against the accused.
Barring Sister Nina Rose, all of them have been asked to leave Kerala convent.
Love India news?
Stay updated with the latest happenings.
Yes, notify Me
Nuns have been asked to leave Kuravilangad convent
Superior General Regina Kadamthottu has in a letter asked the nuns to leave Kuravilangad convent and return to convents previously assigned by Missionaries of Jesus.
Sister Anupama was directed to go to Chamiyari community in Punjab. She was appointed as a member there in March 2018.
The letter, dated January 3, highlighted she chose to fight the legal battle in her own 'individual capacity'.
Nuns accused of 'abandoning' communities
Sister Ancitta was asked to go to Kannur, where she was shifted in May 2018.
Sister Alphy was appointed Mother Superior of Pakartala community in Bihar and has been asked to return.
"It pains me to note that you had not only chosen to abandon the Pakarthala community but also paid scant heed to my repeated instructions to return to the community," the letter addressed to her read.
In letter, Superior Regina boasts of facilities provided to nuns
Similarly, Sister Josephine, who became the Superior at Lalmatia community in Jharkhand in May 2017 has been asked to leave. She too was accused of 'abandoning the committee'.
The letters read that the malicious stories have been floating around which have tarnished the image of the MJ Congregation.
Superior General Regina wrote in the document that 'despite such behavior', nuns were taken care of.
The nuns received a strongly-worded letter
"Even as you and a few other MJ members continue to have no qualms in issuing malafide public statements, I have been ensuring that the congregation continues supporting you all with food, accommodation and the cost of medical treatment as required," the letter reportedly read.
Earlier, death of prime witness shrouded case in controversies
It should be noted that the nuns had made it clear they came to Kerala to lend support to the survivor nun and would not leave her alone in the Kuravilangad convent.
On a related note, the highly talked about case took a new turn when prime witness Father Kuriakose died.
While conspiracy theories floated, an autopsy found he died of natural causes.
What is the Kerala nun case?
Asked 2019-01-16 17:52:31 by Arjun Tambe
Answered by NewsBytes
In Kerala, a nun accused Bishop Franco Mulakkal of raping her repeatedly for many months. She approached the police after church didn't take action against him.
Who is Franco Mulakkal?
Asked 2019-01-16 17:52:31 by Surabhi Malhotra
Answered by NewsBytes
Franco Mulakkal was the Bishop of Jalandhar diocese and was accused of rape. He claimed he was innocent but SIT, which was formed to probe the case, supported the nun's claims.
Is Franco Mulakkal in jail?
Asked 2019-01-16 17:52:31 by Ajay Gupta
Answered by NewsBytes
No, Franco Mulakkal was granted bail in October last year. After he returned to Jalandhar, he was given a rousing welcome by people.
What is 'Save Our Sisters' Council?
Asked 2019-01-16 17:52:31 by Surabhi Khan
Answered by NewsBytes
The Save Our Sisters is an umbrella organization which includes people from different backgrounds. It was formed to maximize the outreach of the nuns' protest.