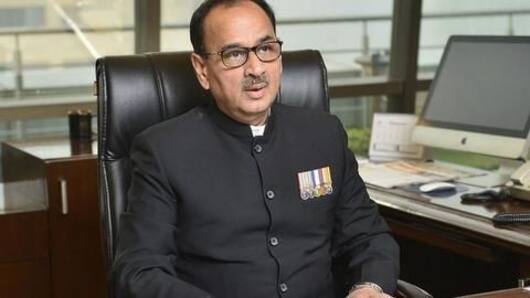 Former CBI-chief Verma to give keynote speech at SRCC event
Alok Verma, who was removed from his post of CBI director last week, has been invited to give a keynote speech at an event of Delhi University's SRCC college on February 14.
The event is called Students' Union Business Conclave 2019.
This particular event found a place on national map after Prime Minister Narendra Modi attended it in 2013 (when he was Gujarat's CM).
What will Verma speak on
The college administration invited Verma for the event last week, when he was reinstated to the top post by Supreme Court.
He had agreed to attend the event and is likely to speak on what it takes to 'build organizational identity through personal history'.
Other influential personalities who could attend this year's event are, Union Ministers Suresh Prabhu, Smriti Irani, and AAP's Manish Sisodia.
Organizer says full list of speakers is being worked on
"There are 24 to 25 sessions in each event spread over three days (from Feb 14-16). Besides keynote speakers, we have townhall events and panel discussions. The full list of speakers for this year is being worked on," one of the organizers said.
Love India news?
Stay updated with the latest happenings.
Yes, notify Me
Previously, Kalam, Chidambaram, and Dalai Lama have attended the event
Over the years, the event, held inside the college campus, has seen many influential attendees. Fro Dalai Lama, late President APJ Abdul Kalam, Mukesh Ambani to P Chidambaram, the list of speakers has always been bright.
However, it was PM Modi's address in 2013 which got national attention. He used the platform to launch the 2014 election campaign.
Years ago, CM Modi spoke about development politics
CM Modi, who was NDA's Prime Ministerial candidate back then, had said, "This nation is being ruined by vote bank politics. This nation requires development politics. If we switch to politics of development, we will soon be in a position to bring about lasting change."
On a related note, Modi-led panel to decide CBI boss
Verma's exit laid roots for a huge political turmoil. Verma's tenure was scheduled to end on January 31 but he resigned from his new post after the unceremonial ouster.
Reportedly, PM Modi-led panel will decide the next boss of CBI on January 24. Nageshwar Rao is the interim chief.
The panel will also include Chief Justice of India and leader of the opposition.
Who removed Alok Verma from his post as CBI chief?
Asked 2019-01-17 14:07:40 by Aarav Bhatnagar
Answered by NewsBytes
A high-powered committee, led by Prime Minister Narendra Modi removed Alok Verma. The panel also included the leader of opposition Mallikarjun Kharge and Justice AK Sikri.
Why was Alok Verma removed from his post?
Asked 2019-01-17 14:07:40 by Vishal Rangarajan
Answered by NewsBytes
The panel opined that till a CVC investigation on Verma reaches a conclusion, it would be best if he is transferred to an equivalent position. However, Maillkarjun Kharge didn't agree.
What did Alok Verma say on his exit?
Asked 2019-01-17 14:07:40 by Devansh Mehra
Answered by NewsBytes
Alok Verma claimed CBI was under attack and said he was removed on frivolous charges.
What was the opposition's stand?
Asked 2019-01-17 14:07:40 by Parakram Jaiteley
Answered by NewsBytes
The opposition, led by Rahul Gandhi, slammed Narendra Modi government and said the Prime Minister was scared of an investigation into Rafale deal.