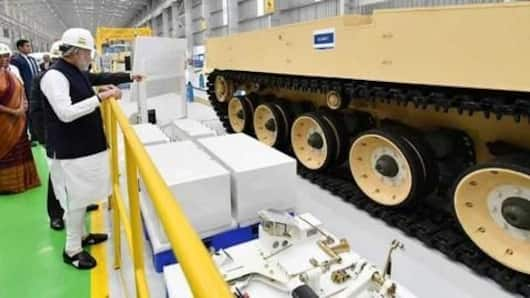 PM Modi inaugurates India's first private-sector howitzer manufacturing unit
On Friday, Prime Minister Narendra Modi inaugurated the Larsen & Toubro (L&T) Armoured Systems Complex in Hazira, Gujarat, as part of the ongoing Vibrant Gujarat summit.
The inauguration of the plant marked the official opening of India's first private-sector howitzer gun making unit.
Defense Minister Nirmala Sitharaman was also present during the inauguration.
Here are the details.
In 2017, L&T won a defense contract worth Rs. 4,500cr
In 2017, L&T, in cooperation with South Korean company Hanwha Land Systems, had won a defense contract worth Rs. 4,500cr to supply 100 units of the K9 Vajra-T 155mm/52 calibre Tracked Self-Propelled gun systems to the Indian Army.
The K9 Vajra howitzer is a derivative of the South Korea-designed 'Thunder' SPH, and the contract was awarded after careful evaluation of alternatives from around the world.
Love India news?
Stay updated with the latest happenings.
Yes, notify me
The versatility of the K9s will boost the army's capabilities
The K9 Vajra howitzers are expected to give the Indian Army's artillery capabilities a massive boost, especially as the weapon systems are capable of moving in tandem with armored formations.
With a claimed range of 75km, the K9 Vajra is a versatile system that can be quickly brought into battle, utilized, and then quickly withdrawn.
The system's speed makes it less susceptible to enemy fire.
In November, US-built M777 howitzers were also inducted
However, the K9 Vajra howitzers aren't the only artillery India has recently invested in.
In November last year, Sitharaman inducted the US-built M777 155mm towed gun system into the Indian Army.
A deal of Rs. 5,000cr was made for the acquisition of 145 M777 howitzers, to be built by US-based BAE Systems in collaboration with Mahindra.
What is a howitzer?
Asked 2019-01-19 15:21:14 by Abhinav Kadam
Answered by NewsBytes
A howitzer is a type of artillery characterized by relatively short barrels and comparatively small propellant charges. Howitzers fire projectiles over high trajectories at low velocities with a steep angle of descent.
When were the first howitzers invented?
Asked 2019-01-19 15:21:14 by Hansika Saxena
Answered by NewsBytes
The first howitzers were invented in the late 17th century in Sweden.
What is the biggest howitzer ever made?
Asked 2019-01-19 15:21:14 by Rajesh Malik
Answered by NewsBytes
The Schwerer Gustav, built by Germany in the 1930s, is the largest-calibre artillery piece to have ever been used in combat. Weighing a massive 1,350 tons, the Schwerer Gustav could fire shells weighing up to seven tons over distances of 47km. It was destroyed by the Germans towards the end of World War II to avoid capture by the Red Army.
What are some of the best modern howitzers?
Asked 2019-01-19 15:21:14 by Vishal Trivedi
Answered by NewsBytes
The Archer FH77 BW L52 Self-Propelled Howitzer, DONAR Artillery Gun Module, PzH 2000, CAESAR 155mm Howitzer, K9 Thunder, NORA-B/52 SP Gun-Howitzer, KRAB 155mm SPH, ATMOS 155mm Self-Propelled Howitzer, Singapore Self Propelled Howitzer 1 (SSPH 1) Primus, and Paladin M109A6 PIM are some of the best modern-day howitzers.