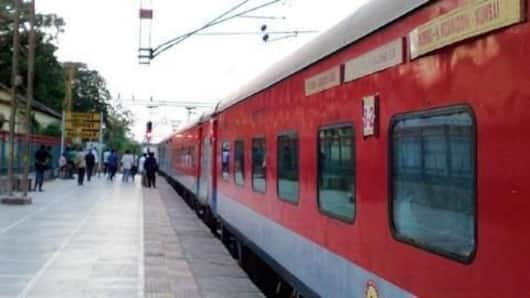 New Rajdhani on Mumbai-Delhi route launched: Details here
On Saturday, the Indian Railways flagged off its latest Rajdhani Express, that will ply from the Chhatrapati Shivaji Maharaj Terminus (CSMT) in Mumbai to the Hazrat Nizamuddin station in Delhi.
With the launch of this bi-weekly Rajdhani service from Mumbai to Delhi, there will now be three Rajdhanis serving the route between the two cities.
Here are the details.
Railway Minister Piyush Goyal tweets about the flagging off
Will be flagging off the new Mumbai-New Delhi Rajdhani Express and two other train services, while inaugurating and dedicating several passenger amenities from Mumbai's Chhatrapati Shivaji Maharaj Terminus. Watch the live event at: https://t.co/RmGs4nWpH5 pic.twitter.com/GeMFunvlbv

— Piyush Goyal (@PiyushGoyal) January 19, 2019
Details about the bi-weekly service and its route
While two Rajdhani trains already run the route, the new Rajdhani Express will be the first such train passing through the Central zone.
Starting from CSMT, the train will pass through Kalyan, Nasik, Jalgaon, Khandwa, Bhopal, Jhansi, and Agra, before stopping at Delhi's Hazrat Nizamuddin station.
The train will have one first AC, three AC 2-tier, eight AC 3-tier, and one pantry coach.
Love India news?
Stay updated with the latest happenings.
Yes, notify Me
The new service got sold out within five hours
Such was the excitement about the launch of the new service that tickets for all 756 seats on new Rajdhani train sold out within five hours.
Service timings for the new route
The new service will depart from the CSMT station every Wednesday and Saturday at 2.50pm and will arrive at Delhi's Hazrat Nizamuddin station at 10.20am the next day.
For return journeys, the train will leave Hazrat Niazmuddin station every Thursday and Sunday at 4.15pm and will reach CSMT at 11.55am the next day.
The service is the latest addition to the Rajdhani fleet
The launch of the service brings the total size of the Rajdhani fleet to 24.
The three Mumbai services apart, other Rajdhanis connect Delhi to Dibrugarh (Assam), Patna (Bihar), Bilaspur (Chhattisgarh), Madgaon (Goa), Ahmedabad (Gujarat), Jammu (Jammu and Kashmir), Ranchi (Jharkhand), Bangalore (Karnataka), Thiruvananthapuram (Kerala), Bhubaneswar (Odisha), Chennai (Tamil Nadu), Secunderabad (Telangana), Agartala (Tripura), and Kolkata (West Bengal).
When was the first Rajdhani Express introduced?
Asked 2019-01-19 16:52:45 by Reyansh Gupta
Answered by NewsBytes
The first Rajdhani Express was introduced in 1969.
Is the Rajdhani Express the fastest Indian Railways train?
Asked 2019-01-19 16:52:45 by Tejas Trivedi
Answered by NewsBytes
No. Currently, the newly-launched, engine-less Train 18 is India's fastest train, having a top speed of 180kmph.
Do Rajdhani trains enjoy special privileges?
Asked 2019-01-19 16:52:45 by Ananya Singhal
Answered by NewsBytes
Rajdhani Express trains get the highest priority on the Indian Railways network.
Which are India's fastest trains?
Asked 2019-01-19 16:52:45 by Ishan Mistry
Answered by NewsBytes
Train 18, Rajdhani Express, Tejas Express, Gatimaan Express, Shatabdi Express and Duronto Express