India
As Winter session kicks off, opposition rallies against demonetization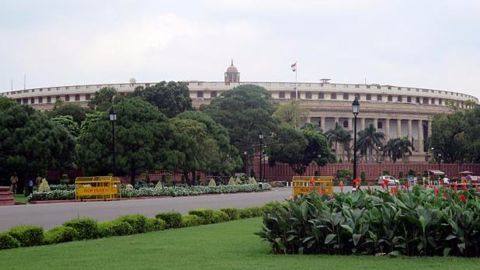 Winter session of the Parliament kicked off yesterday on a stormy note as the Opposition parties targeted the government over the 'demonetization' of high value currency notes.
The move was described as an 'ill-timed' decision that unleashed an 'economic anarchy'.
Opposition alleged that the government had informed its 'BJP friends' about the demonetization in advance and even demanded a probe into it.
In context:
Winter Session of Parliament - what to expect?
Summary

Parliament Winter Session
On an average, Parliament meets for 85 -105 days in a year during its three sessions - Budget, Monsoon and Winter.
Winter Session, spanning over a period of month, is the shortest session. It happens generally between mid-November and mid-December.
Issues that could not be deliberated upon in the previous sessions are taken up during the Winter Session.
Duration of 2016 Winter Session

The 2016 winter session will last from 16 Nov - 16 Dec 2016. There will be a total 22 sittings during the session.
Love India news?


Stay updated with the latest happenings.
15 Nov 2016

10 bills listed for consideration and passing
Winter session agenda includes 10 bills for consideration and passing.
Maternity Benefits (Amendment) Bill, 2016; Prevention of Corruption (Amendment) Bill, 2013; Mental Health Care Bill, 2013; Whistle Blowers Protection (Amendment) Bill, 2015; Consumer Protection Bill, 2015; Citizenship (Amendment) Bill, 2016; HIV and AIDS (Prevention and Control) Bill, 2014; Employee's Compensation (Amendment) Bill, 2016; Factories (Amendment) Bill, 2016; Enemy Property (Amendment and Validation) Bill, 2016.
9 bills listed for introduction, consideration and passing

There are 9 bills listed for introduction, consideration and passing. 3 GST bills, Surrogacy Bill, IIM Biil, Divorce (Amendment) Bill are some of them.
16 Nov 2016

Focus on passing the GST bills
The government is keen on passing the pending GST bills which enables them to roll out GST from 1 April 2017.
These are - Central Goods and Services Tax Bill (tax on intra-state supply of goods and services); Integrated Goods and Services Tax Bill (tax on inter-state supply of goods or services); and The Goods and Services Tax (Compensation for Loss of Revenue) Bill.
17 Nov 2016

As Winter session kicks off, opposition rallies against demonetization
Love India news?


Stay updated with the latest happenings.
18 Nov 2016

Ruckus over demonetization, Lok Sabha adjourned till Monday
In light of growing political opposition to the demonetization move, the government has agreed to discuss the issue in the Lok Sabha.
Parliamentary Affairs Minister said that under Section 193 of the Rules of Procedure in LS, the demonetization issue can be taken up for discussion.
However, amid continued ruckus, the Rajya Sabha was adjourned four times, while the LS was adjourned till Monday.
22 Nov 2016

Lok Sabha adjourned amid chaos
Painting a bleak picture for Parliamentary functioning in the winter session, the Lok Sabha has been adjourned till tomorrow; protests by the opposition parties and repeated disruption led to the adjournment.
Sitaram Yechury of the CPI(M) demanded that the PM participate in the debate on demonetization and considered moving a contempt notice against the PM.
Speaker Sumitra Mahajan expressed regret at the MPs' behaviour.
23 Nov 2016

Opposition parties turn up the heat against demonetization
A group of 13 outfits led by the Congress, the Left, Trinamool, Samajwadi Party and Bahujan Samaj Party will protest in the Parliament complex against the demonetization scheme.
Sources state that the group of parties have also planned to disrupt house proceedings until the PM issues a clarification on demonetization.
TMC's Mamata Banerjee will also stage a dharna outside Jantar Mantar.