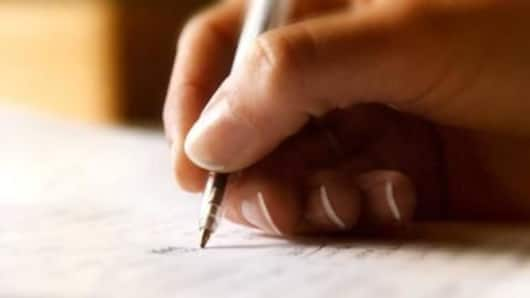 #CareerBytes: 5 best resources to prepare for UPSC Essay Paper
The UPSC Civil Services Examination, which is one of the toughest exams, is conducted in three stages: Preliminary examination, Main examination, and Personality Test.
The Main examination comprises nine papers, including Essay Paper for 250 marks. Some candidates find essay writing a little challenging as there's no fixed syllabus.
However, Essay Paper is crucial and here are 5 best resources to prepare for it.
Reading books will help you improve thought process
Books are one of the main resources for essay writing preparation. UPSC aspirants must regularly read books, especially non-fiction, to develop a matured thought process.
Books impart knowledge and also help candidates know figures of speech, diverse topics, unique content, etc.
One should also go through school-level books to brush up grammar like High school Grammar and Composition by Wren and Martin among others.
Regular newspaper reading is an indispensable part of UPSC preparation
To do well in essay writing, aspirants must also regularly read newspapers, focusing more on the editorial section.
This will help them know the current affairs, learn about diverse topics and issues, and also improve their knowledge and ability to clearly present their views while writing essays.
Aspirants must also watch discussions and debates on TV news channels to know and understand various issues.
Love India news?
Stay updated with the latest happenings.
Yes, notify Me
One can refer to magazines to prepare for essay writing
Aspirants should also refer to magazines for understanding certain topics and specific issues like policies, government schemes, economic surveys, latest statics, public health, tribal issues, etc.
They can read magazines like Frontline, Kurukshetra, Yojana, Science Reporter, South Asia Politics, and Economic and Political Weekly among others to know the latest developments in various sectors and stay updated on current affairs.
Essay topics in previous question papers
UPSC aspirants should also work on essay topics in previous UPSC question papers of at least the last five years. They can practice writing essays on topics covered in previous papers.
This will not only help them understand the format of questions, type of topics covered, and questioning trends but also manage time better in the exam.
#5: Collect good stories, anecdotes, and quotes
Aspirants should also collect good stories, anecdotes, and quotes which they come across in newspapers, magazines, or books. They should note these down and memorize them properly; candidates can use them in relevant essay topics during the exam.
How can I start preparing for the UPSC exam?
Asked 2019-01-22 12:09:34 by Mansi K Giri
Answered by NewsBytes
You can start the preparation of UPSC online by visiting the following sites :(1) ClearIAS, (2) BYJUs, (3) SuperProfs, (4) IASbaba, (5) IAS exam portal. You can solve mocks from these websites which will help you to improve your general studies and English along with the related subjects.
How should I prepare my base for UPSC 2020?
Asked 2019-01-22 01:33:41 by Shama Parveen
Answered by NewsBytes
You can prepare for the UPSC exam by following these simple steps: (1) Read thoroughly your NCERT books as they will provide the basic details on any topic, (2) Read NewsBytes daily to stay updated on national, international events, (3) Improve your writing speed by attempting as many mocks as possible per day, (4)Always practice hard. These points will definitely strengthen your basic knowledge.
In which language we can give the UPSC exam?
Asked 2019-01-21 17:43:02 by Sonali Gite
Answered by NewsBytes
You can take UPSC exam in 22 government recognized languages of India. These languages include Hindi, Tamil, Assamese, Bengali, Bodo, Dogri, Gujarati, Kannada, Kashmiri, Konkani, Maithili, Malayalam, Manipuri, Marathi, Nepali, Odia, Punjabi, Sanskrit, Santali, Sindhi, Telugu, and Urdu.
How to study for MPSC & UPSC exam?
Asked 2019-01-21 17:41:47 by Sonali Gite
Answered by NewsBytes
It is advised to read the NCERT books from class 8th-12th to prepare for the UPSC and MPSC exams as they provide you the basic knowledge of the topics you're going to read further. The study materials will also strengthen up your base in any subject. Along with this, you can read NewsBytes daily to stay updated on national, international news.
What are the different optional subjects in the IAS exam?
Asked 2019-01-21 08:12:11 by charming girl
Answered by NewsBytes
There are over 25 optional subjects in the IAS exam. These subjects include agriculture, animal husbandry and veterinary science, anthropology, botany, chemistry, civil engineering, commerce and accountancy, economics, electrical engineering, geography, geology, history, law, management, mathematics, medical science, philosophy, physics, political science and international relations, psychology, public administration, sociology, statistics, zoology, and 22 governments recognized languages of India.