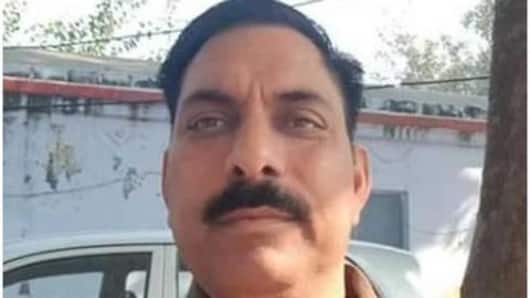 Bulandshahr violence: Dead cop's phone recovered from house of accused
Almost two months after an Uttar Pradesh cop was killed by an unruly mob in Bulandshahr, his Closed User Group (CUG) mobile phone was recovered from the house of accused Prashant Natt.
Inspector Subodh Singh was killed on December 3 by a mob which was protesting cow slaughter.
On December 28, Natt was arrested by police for shooting Singh with latter's service revolver.
Uttar Pradesh put to shame after cop was killed
Last month, nearly 400 people including many members of right-wing groups went on a rampage in Chingrawathi village after cow carcasses were allegedly found in the forests.
The mob pelted stones at police and cornered Singh's vehicle in a field. The inspector was attacked with an axe and then shot dead.
In the violence, a youth named Sumit Kumar also lost his life.
Natt was arrested three weeks after incident
While the case received flak from every quarter, with law and order in UP being questioned, police scored major achievement with Natt's arrest.
Natt, a cab driver by profession, was picked up near Noida and on interrogation confessed to the crime. Singh's revolver was also found in his possession.
However, contradicting police's claims Natt had told a TV channel he didn't pull the trigger.
Love India news?
Stay updated with the latest happenings.
Yes, notify me
Police maintains Natt killed Singh
"Prashant (Natt) took Subodh's (Singh) service revolver and shot him in the head. His confession has been corroborated by other accused who submitted surrender pleas in the last week," police claimed according to IE.
35 people have been arrested including Bajrang Dal member
Notably, Natt isn't the only accused in the highly controversial case. Police have arrested 35 people so far.
Army jawan Jeetender Malik, Bajrang Dal member Yogesh Raj and a man named Kalua have been arrested.
Malik was accused of firing a gun while Yogesh allegedly instigated the crowd. Kalua had apparently attacked Singh with an axe to cut his thumb off.
Meanwhile, a case has been registered against alleged cow killers
On a related note, the UP police have filed a case under the National Security Act (NSA) against three suspects for slaughtering cows.
It is believed the cow slaughter led to violence on December 3 which killed Singh and Kumar.
The accused are Azhar Khan, Nadeem Khan and Mehboob Ali of Syana town. The investigation into Singh's death is part of this probe.
Earlier, Adityanath called the incident an 'accident'
The death of an inspector got Yogi Adityanath government ire from many sides. However, the Chief Minister termed it an accident and said it shouldn't be called mob-lynching.
"Illegal slaughtering, and not just cow slaughter, is banned in the entire state and the DM and SP will be answerable. The Bulandshahr incident was an accident, and the law is taking its course," he said.
Who is Prashant Natt?
Asked 2019-01-28 00:38:14 by Tejas Mukopadhyay
Answered by NewsBytes
Prashant Natt is a cab driver who allegedly killed Subodh Singh, an inspector in Bulandshahr.
What happened in Bulandshahr?
Asked 2019-01-28 00:38:14 by Anika Trivedi
Answered by NewsBytes
An unruly mob attacked police in Bulandshahr last month over alleged cow slaughter.
How many people have been arrested so far?
Asked 2019-01-28 00:38:14 by Vishal Rangan
Answered by NewsBytes
Police have arrested 35 people so far in this case. A Bajrang Dal member and an army jawan have been nabbed too.
What did Yogi Adityanath say on the violence?
Asked 2019-01-28 00:38:14 by Divya Jhadav
Answered by NewsBytes
Yogi Adityanath condemned the incident but called it an accident.