India
Crores of 'missing' demonetized currency resurfaces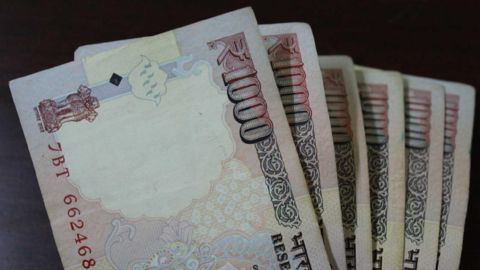 Demonetized currency of Rs.3.5 crore had 'vanished' from Dimapur airport on Tuesday after having arrived there in a chartered aircraft from Hissar, Haryana.
The 'missing' cash resurfaced on Wednesday in a dramatic fashion when it was determined that the cash was in possession of a local businessman, Anato Zhimomi.
The local businessman, Zhimomi, is the son-in-law of Nagaland's former Chief Minister.
In context:
Crores in scrapped notes make dramatic reappearance
November 22, 2016

Demonetized currency arrives via chartered flight
On Tuesday, a chartered flight landed in Dimapur, Nagaland with a lone passenger Amarjit Singh, allegedly a businessman from Bihar.
Mr. Singh was transporting demonetized currency notes worth Rs.3.5 crore from Hissar, Haryana.
Prior to the flight's landing, CISF officials at the airport were tipped off by superiors about massive demonetized currency on the plane.
IT officials were also informed.
What happened?

Currency disappears from airport!
After the charter flight landed a little after 10 am, Mr. Singh was frisked and the demonetized currency was seized.
However within a span of two hours, the seized currency went missing.
Allegedly, a young businessman, Anato Zhimomi, came forward to claim the currency.
Amongst the CISF, IT officials and police, they concur currency was handed-over to an individual but can't identify him.
Love India news?


Stay updated with the latest happenings.
Who is Anato Zhimomi?

Anato Zhimomi is the son-in-law of three-time former Nagaland Chief Minister Neiphiu Rio; Rio is also the current Lok Sabha MP of Naga People's Front, an ally of the BJP-led NDA at the centre.
25 Nov 2016

Crores of 'missing' demonetized currency resurfaces
Key findings

The police investigation
Investigation by the local police and IT officials suggest the seized currency was part of a money laundering racket.
Tribals in the northeast have certain tax exemptions that the money-launderers likely wanted to exploit.
Some businessmen from Haryana roped in Anato Zhimomi; almost Rs.11 crores of demonetized currency was to be deposited in Zhimomi's bank account and wire-transferred back to the Haryana businessmen.
Tax exemption to tribals

Tribals of five Northeastern states - Nagaland, Tripura, Manipur, Mizoram, and Arunachal Pradesh - are fully exempted from tax liabilities under Section 10 (26) of the IT Act, 1961. They are allowed to claim exemption from tax with respect to income from any source.
Love India news?


Stay updated with the latest happenings.
Details

Action taken by authorities
Anato Zhimomi, confessed to 'ferrying' currency on three occasions from Hissar to Dimapur; he has now been arrested.
Tax officials are questioning the Haryana-based businessman who was laundering his money via Zhimomi's bank account.
Police also have the proprietor of the airline under the scanner; this incident highlighted complete absence of security at small airports which tomorrow could be misused by terrorists.