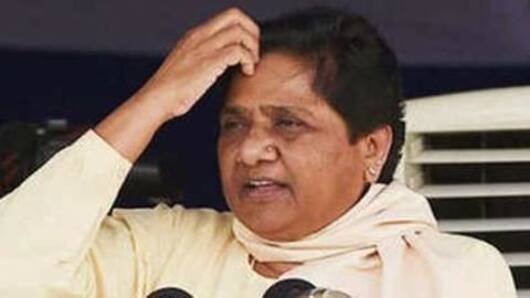 SC: Mayawati should reimburse Rs. 2,600cr spent on elephant statues
On Friday, the Supreme Court said that it was of the view that Bahujan Samaj Party (BSP) chief Mayawati should reimburse the public money that was spent installing statues of herself and BSP's symbol during her tenure as Chief Minister.
However, the apex court added that this was a prima facie view, and the final call would be taken on April 2.
Here's more.
The Mayawati government had built several memorials and statues
During Mayawati's tenure as the Chief Minister of Uttar Pradesh from 2007 to 2012, her government had built several Dalit memorials and statues, including of BSP founder Kanshi Ram, herself, and the BSP's elephant symbol.
These statues and memorials had been built across Lucknow, Noida and a few other places in the state, and had cost the state exchequer a whopping Rs. 2,600cr.
In 2008-09 alone, Rs. 194cr had been spent on statues
The UP culture department's budget for 2009-10 showed that in 2008-09 alone, Rs. 194cr had been allocated for and entirely spent on building statues of "great leaders".
Love India news?
Stay updated with the latest happenings.
Yes, notify Me
The Mayawati government's statue-building drive had been challenged
However, an advocate had challenged the move in the Supreme Court, stating that public money could not be used for building statues of one's own self or for promoting a particular political party.
It was during a hearing of this petition that a SC bench headed by CJI Ranjan Gogoi said that Mayawati should reimburse the state exchequer for the money spent.
What the SC bench had to say
"We are of the tentative view that Mayawati has to deposit the public money spent on her statues and party symbol to the state exchequer. We will have it for final disposal on April 2," said the SC bench.
BSP wanted the SC to hear the case in May
As it stands, Mayawati and former arch rival, Samajwadi Party chief Akhilesh Yadav, have joined forces to fight the BJP in the upcoming Lok Sabha elections.
With this in mind, the BSP asked the Supreme Court if this case pertaining to statue construction could be heard after the elections in May.
To this, CJI Ranjan Gogoi said, "Please don't compel us to say something which we don't want."
In 2012, the EC had ordered the covering of statues
Such was the prevalence of Mayawati and elephant statues across UP that the Election Commission, in 2012, ordered the covering of all Mayawati and elephant statues across the state to provide a level playing field for all parties contesting elections.
Earlier, the ED had indicted hundreds in a 'memorial scam'
Separately, a complaint from the vigilance department had also alleged a 'memorial scam' in which the UP government had suffered Rs. 111cr in losses for the construction of statues and memorials under the Mayawati government.
Acting on it, the Enforcement Directorate had filed a criminal case under the Prevention of Money Laundering Act (PMLA).
The ED indicted 199 individuals, including Mayawati's close aides.
How long was Mayawati in power?
Asked 2019-02-08 14:37:36 by Ayaan Dasgupta
Answered by NewsBytes
Mayawati was in power in UP for a full tenure between 2007 and 2012. Prior to that she had had brief stints as CM in 1995, 1997, and 2002-03.
When was the petition challenging use of public money for statues filed?
Asked 2019-02-08 14:37:36 by Vibhore Rathore
Answered by NewsBytes
The petition challenging the Mayawati government's use of public money for statue building was filed in 2009.
Who filed the petition?
Asked 2019-02-08 14:37:36 by Angel Malhotra
Answered by NewsBytes
The petition was filed by two advocated, Ravikant and Sukumar.
When did Mayawati and Akhilesh Yadav join forces?
Asked 2019-02-08 14:37:36 by Arjun Vyas
Answered by NewsBytes
Mayawati and Akhilesh Yadav joined forces on January 12 this year.