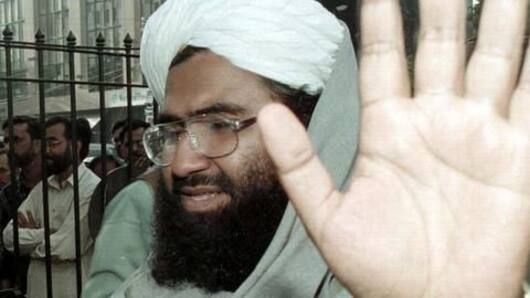 China blocks India's bid to declare Masood as global-terrorist, again
On Friday, China refused to back India's bid in the United Nations to declare Jaish-e-Mohammed Chief Masood Azhar a global terrorist, despite the organization taking responsibility for the deadly Pulwama attack.
This is the fourth time China spoiled India's plans in this regard.
However, Chinese Foreign Ministry Geng Shuang expressed "deep shock" on the incident and called for peace.
Here's more.
China condemns attack but stays mum on JeM
In a press briefing, Geng hoped regional countries would come together to uphold peace and stability.
When asked about steps taken against JeM, Geng said, "JeM has been included in the Security Council terrorism sanctions list. China will continue to handle the relevant sanctions issue in a constructive and responsible manner."
China, Pakistan's close ally, wields veto power in the UNSC.
Earlier too China didn't support India
In 2016 alone, China blocked India's plans to get Masood declared as a UN-designated terrorist twice.
Reportedly, China was the only country in the 15-member UNSC to oppose the ban.
Back then, China had said, "There should be no double standards on counter-terrorism. Nor should one pursue own political gains in the name of counter-terrorism."
India has been pushing for Masood's listing since 2008-09.
Love India news?
Stay updated with the latest happenings.
Yes, notify me
Previously, Masood was arrested but had to be released
Masood has been waging war against India for decades now. He was arrested years ago but in 1999, the Atal Bihari Vajpayee government released him after 155 Indian Airlines passengers were held hostage in Afghanistan.
In 2000, Masood formed JeM to "free Kashmir". His organization has been instrumental in radicalizing youth of the valley.
Notably, the terrorist who carried out the recent attack was a Pulwama resident.
Jaish was responsible for Pathankot attack as well
While China has been protecting Masood, India's concerns aren't unwarranted. Jaish was responsible for the Pathankot attack on India Air Force's (IAF) in 2016. Seven security personnel were martyred in the infamous attack.
MEA blames Pakistan, US directs it to act against terrorism
The Pulwama incident, which was the worst attack in J&K in a decade, forced Ministry of External Affairs to act against Pakistan.
MEA blamed Pakistan for encouraging terrorism. On Friday, India withdrew the "Most Favored Nation" status as well.
Notably, the United States also asked Pakistan to immediately act against terrorism and stop providing safe haven to outfits.
Former CIA expert hints at ISI's involvement
Meanwhile, Bruce Riedel, a former CIA analyst hasn't ruled out the possibility that ISI, Pakistan's spy agency, could be involved in the attack.
"The self-proclaimed involvement of JeM in the attack raises serious questions about the role of the ISI in supporting the masterminds of this operation," Riedel said.
He added Imran Khan government faces a real challenge after this brutal attack.
Who is Masood Azhar?
Asked 2019-02-15 15:54:58 by Dhruv Mukopadhyay
Answered by NewsBytes
Masood Azhar is the chief of Jaish-e-Mohammed.
Why is China protecting Masood Azhar?
Asked 2019-02-15 15:54:58 by Ayaan Venkatesan
Answered by NewsBytes
China and Pakistan are close allies and the former doesn't want to strain their relationships.
How many soldiers died in Pulwama terror attack?
Asked 2019-02-15 15:54:58 by Abhinav Tambe
Answered by NewsBytes
Reports claimed as many as 44 army men lost their lives.
When did Pulwama terror attack happen?
Asked 2019-02-15 15:54:58 by Abhinav Singh
Answered by NewsBytes
Pulwama terror attack happened on February 14, 2019.