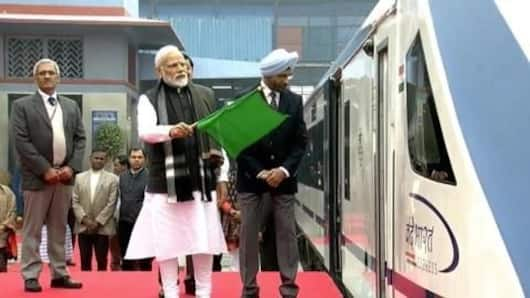 Just a day after launch, Train 18 breaks down
A day after it was launched by Prime Minister Narendra Modi, Vande Bharat Express (which is popularly known as Train 18), broke down on Friday.
The semi-high speed train was returning to Delhi from Varanasi when it hit a roadblock. The train was halted near Tundla, which is nearly 200 kms away from the national capital.
Train 18 resumed its journey at 8:15 AM.
Train 18's maiden trip was hindered due to cattle
The breakdown obviously embarrassed the government which has been continuously singing praises about the train.
Reports claimed Train 18 was hit by cattle. When one of the cattle came under the train's wheel, communication with the last coach broke down, affecting the train control management system.
Engineers got their torches and other equipment out and started checking the fault.
Train made rattling sounds, speed was reduced drastically
According to Indian Express, the train made rattling sounds. The report claimed foul smell and smoke also emanated from the last four coaches. Engineers on spot claimed parking brake and holding brake jammed.
The train, which can touch a speed of 180kmph, resumed its journey at speed of 10 kmph. When the problem persisted, pilots decided to run the train at 40 kmph.
Love India news?
Stay updated with the latest happenings.
Yes, notify Me
Meanwhile, Centre is proud of Train 18
The indigenous train was built by Integral Coach Factory, Chennai. This engineless train was built in 18 months and gave a major boost to the Centre's "Make In India" campaign.
The train having 16 coaches was built at a cost of Rs. 97 crore. It is fully air-conditioned and is laced with world-class amenities.
The government hopes it will replace the existing Shatabdi Express.
Notably, Train 18's maiden commercial journey won't be affected
After several trials, Train 18 was flagged off on Friday. The government didn't decorate the locomotive and kept it simple in the wake of Pulwama terror attacks.
The train's first commercial run is scheduled for Sunday and it is already overbooked.
An official spokesperson of railways confirmed the breakdown won't affect the plans by saying, "Commercial operations will start from Sunday, February 17."
Where was Train 18 halted?
Asked 2019-02-16 10:43:42 by Harini Shah
Answered by NewsBytes
Train 18 was stopped near Tundla, which is 200 km away from New Delhi.
Why did Train 18 stop?
Asked 2019-02-16 10:43:42 by Charvi Khan
Answered by NewsBytes
Train 18 had a breakdown when it was returning to Delhi from Varanasi.
What caused the breakdown?
Asked 2019-02-16 10:43:42 by Hansika Patil
Answered by NewsBytes
Reports claim the train was hit by cattle causing the breakdown.
When will Train 18 begin its first commercial run?
Asked 2019-02-16 10:43:42 by Trisha Mehra
Answered by NewsBytes
Train 18 will start its first commercial run on Sunday, February 17. The breakdown won't change it.