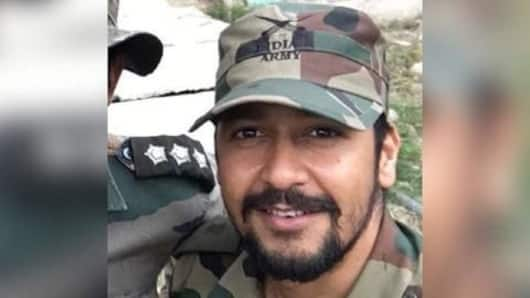 Major's mother was last to be told about his death
Army Major Vibhuti Shankar Dhoundiyal's mother Saroj Devi, who is a heart patient, was the last one to know about his martyrdom on Monday.
Major Dhoundiyal lost his life in a fierce gun battle in J&K's Pulwama district. While three members of Jaish-e-Mohammed were eliminated (including Pulwama attack's mastermind), four soldiers were martyred.
His family, who stays in Dehradun, gave him a teary goodbye.
Backstory: Forces worked together to eliminate Jaish-e-Mohammed's terrorists
After the dastardly February 14 attack on CRPF convoy, the security forces launched a joint operation on Sunday night to eliminate terrorists hiding in a house of Pinglana village, Pulwama.
The gun battle went on for almost a day ending with the death of three terrorists, including Jaish-e-Mohammed's Abdul Rasheed Ghazi, the attack's mastermind.
On Tuesday, the Indian Army informed about the successful operation.
The soldiers who lost their lives protecting country
Apart from Major Dhoundiyal, those who were martyred are Havaldar Sheo Ram and Sepoys Hari Singh and Ajay Kumar. Major Dhoundiyal, who joined the Army in 2011, led a unit of Rashtriya Rifles and this was his first major offensive battle against terrorists.
Love India news?
Stay updated with the latest happenings.
Yes, notify me
Major Dhoundiyal was the only son, got married last year
Major Dhoundiyal got married to his sweetheart Nikita Kaul last year. Besides his wife, he is survived by three sisters, mother, and grandmother.
His mother wasn't informed about his death immediately. "Army officers first spoke with her in the evening," a family member told TOI.
Shweta Khanduri, a neighbor, revealed everyone is inconsolable. "His wife is too distraught to speak," she said.
Friend recalls what Major Dhoundiyal was like
"Vibhuti was very studious. He always wanted to join the Army. We studied together till class 12 and then he joined the forces after completing his graduation. The couple stayed here whenever he was off duty," said friend Mayank Khanduri.
In just two days, Uttarakhand lost two sons
Notably, Uttarakhand lost two bravehearts in a matter of just two days. On February 16, Major Chitresh Bisht was martyred while he tried to diffuse an IED device in Jammu's Nowshera district.
His last rites, which was attended by hundreds of people, were performed on Monday amid slogans of "Major Bisht Amar Rahe".
Major Bisht was due to get married on March 7.
India mourns the loss of its bravehearts
Since February 14, India has been pushed into a state of distress. The bad news didn't halt with the martyrdom of 40 soldiers, as Major Bisht, Major Dhoundiyal and three other soldiers lost their lives on the line of duty.
Notably, Prime Minister Narendra Modi had promised the sacrifices won't go in vain and criticized Pakistan for its deplorable actions.
Who is Major Vibhuti Shankar Dhoundiyal?
Asked 2019-02-19 13:38:09 by Vihaan Gupta
Answered by NewsBytes
Major Vibhuti Shankar Dhoundiyal was an officer who got martyred on February 18, 2019.
When did Major Vibhuti Shankar Dhoundiyal get married?
Asked 2019-02-19 13:38:09 by Divya Balasubramanium
Answered by NewsBytes
Major Vibhuti Shankar Dhoundiyal got married last year.
Where did Major Vibhuti Shankar Dhoundiyal hail from?
Asked 2019-02-19 13:38:09 by Pari Bose
Answered by NewsBytes
Major Vibhuti Shankar Dhoundiyal belonged to Dehradun, Uttarakhand.
How many terrorists were killed by army?
Asked 2019-02-19 13:38:09 by Trishla Rodrigues
Answered by NewsBytes
The army eliminated the leadership of Jaish-e-Mohammed in an operation which started on Sunday night.