India
Jayalalithaa: Respect, adoration and inspiration in death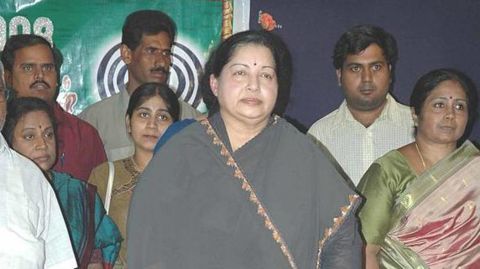 Late TN CM Jayalalithaa's funeral was attended by several urban youngsters who said her life's work inspired them to rise above adversity.
Several international groups, including the American Tamil Sangam (ATS) and the US Friends of AIADMK (USFAIADMK) paid tributes to the late Tamil Nadu chief minister.
Authorities said she was buried and not cremated so that her resting-place can become a memorial.
In context:
J Jayalalithaa's demise: Aftermath
05 Dec 2016

The announcement by Apollo Hospital
On the night of 5th December, 2016, one of India's most popular political figures and Tamil Nadu's CM Jayalalithaa was announced dead after a lengthened period of illness.
Chennai's Apollo Hospital, where she was admitted, in their press release said, "It is with indescribable grief, we announce the sad demise of our esteemed honourable chief minister of Tamil Nadu at 11:30pm today (December 5)."
07 Dec 2016

Jayalalithaa: Respect, adoration and inspiration in death
Love India news?


Stay updated with the latest happenings.
14 Dec 2016

NGO demands CBI probe into Amma's death
The Telugu Yuva Sakshi, a Chennai-based NGO has filed a petition in Supreme Court demanding a CBI probe into Jayalalithaa's death; the NGO also sought the release of all medical documents pertaining to her extensive stay in hospital.
Last week a senior Tamil actor wrote to the PMO about the "secrecy" surrounding her hospital stint.
The court is yet to respond to the PIL.
29 Dec 2016

Madras HC issues notice to PMO over Jayalalithaa exhumation
The Madras High Court has issued a notice to the Prime Minister's Office and the Tamil Nadu state government asking why the body of former Chief Minister Jayalalithaa could not be exhumed.
The court also voiced suspicion on the secrecy maintained over her death and medical records.
A PIL sought the appointment of 3 retired SC judges to investigate Jayalalithaa's medical records.
05 Jan 2017

SC dismisses plea for CBI inquiry into Jayalalithaa's death
The Supreme Court has dismissed a petition filed by former AIADMK MP Sasikala Pushpa, seeking a CBI inquiry into Jayalalithaa's death; the petition argued that the secrecy around Jayalalithaa's death warranted an investigation.
The court dismissed the petition saying there was no merit to the case.
Sasikala also sought the disclosure of Jayalalithaa's health and medical records, which have not been released yet.
06 Mar 2017

AIIMS submits Jayalalithaa's medical report to TN govt
AIIMS has submitted Jayalalithaa's medical report, compiled by the doctors from the institute who went to assess her health while she was in hospital.
The move may put to rest the doubts that were raised from various quarters about the circumstances surrounding Jayalalithaa's death.
The Tamil Nadu government had requested the report to be filed as part of its record keeping.
Love India news?


Stay updated with the latest happenings.
08 Mar 2017

Speculation abounds despite releasing Jayalalithaa's medical report
Speculation of foul play over the death of former Tamil Nadu Chief Minister Jayalalithaa continued to abound, despite the Tamil Nadu government's release of her treatment report.
DMK leader Stalin pointed out several differences in the treatment summary and Apollo hospital's notifications during Jayalalithaa's stint there.
However, former CM O Panneerselvam is yet to make an official comment on the matter.