India
Jayalalithaa to be laid to rest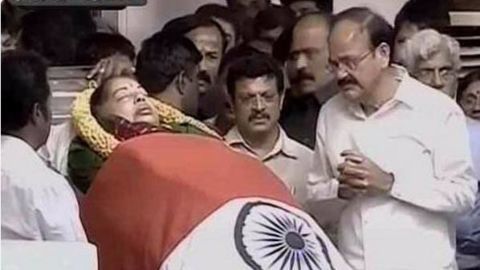 Late Tamil Nadu Chief Minister Jayalalithaa's funeral procession is underway; she has been laid to rest in a sandalwood casket and will be buried at Marina beach next to the memorial for MG Ramachandran.
Her body will be taken in a 3-km procession from Rajaji Hall to Marina beach.
Thousands of her supporters gathered to mourn her passing.
In context:
Jayalalithaa's transformation defined through the decades
1948-60

Early life and education
Jayalalithaa was born on 24 February 1948 in Mysore State (Karnataka) in a Tamil Brahmin family.
Her father, Jayaraman, a lawyer, died in 1950 after which her mother Vedavalli (Sandhya) worked in commercial films in Chennai to support the family.
Jayalalithaa started schooling at Bangalore's Bishop Cotton Girls' School and later at Chennai's Sacred Heart Matriculation School from 1958; she was an excellent student.
The 1960s

Financial conditions didn't allow Jayalalithaa to pursue higher education
Jayalalithaa acted in a Kannada film Sri Shaila Mahathme (1961) and Hindi film Manmauji (1962); she braved through a tough childhood.
She passed matriculation in 1964 and was presented with 'Gold State Award' for coming first in Tamil Nadu.
She wanted to pursue higher education, but financial conditions forced her to work.
Her first film in the lead was Chinnada Gombe (1964) in Kannada.
Love India news?


Stay updated with the latest happenings.
Trained in classical music and dance

Jayalalithaa was trained in classical music and dance and was fluent in Tamil, Telugu, Kannada, Hindi, Malayalam, and English, which helped her work in different Southern Cinema industries. She shot to fame with Telugu film Manushulu Mamathalu. She gave over 15 successful films by 1970.
The 1970s

Worked with MGR in 28 Tamil movies
Jayalalithaa completed acting in 100 films by 1974.
Notable films include Ali Baba 40 Dongalu (1970), Shri Krishna Vijayam (1970), Shri Krishna Satya (1971), Bharya Biddalu (1971), Devudu Chesina Manushulu (1973), and Baghdad Perazhagi (1974).
She worked in 28 box-office hits with MG Ramachandran between 1965 and 1973.
Her National Award-winning film in Pattikada Pattanama opposite Sivaji Ganeshan fetched her a Filmfare in 1973.
The 1980s

Highest paid Indian actress
Jayalalithaa's last film in Tamil was Nadhiyai Thedi Vandha Kadal (1980) and in Telugu Nayakudu Vinayakudu (1980).
She was the highest paid Indian actress during 1965-1980.
Her mentor, MGR, who became the chief minister in 1977 was instrumental in introducing her to politics in 1982; she was a Rajya Sabha MP from 1984-89.
Following MGR's death in 1987, she gained power within AIADMK party.
The 1990s

Jayalalithaa's first term as the CM
After being elected to the Tamil Nadu Legislative Assembly in 1989, Jayalalithaa became the first woman to be elected Leader of the Opposition.
Following a landslide victory for the AIADMK-Congress in assembly elections, Jayalalithaa became the first female and youngest Chief Minister in 1991.
However, her AIADMK lost power in the 1996 elections; they won only 4 of the 168 seats that they contested.
Love India news?


Stay updated with the latest happenings.
The 2000s

Amma's second term as the TN CM
Jayalalithaa was barred from participating in the 2001 state elections as she had been found guilty of criminal offences.
The AIADMK won the elections, and she was installed as CM in May 2001.
Her appointment was legally voided in September 2001 following which Panneerselvam was installed as ] CM.
However, in 2003, she assumed office once again as Madras HC acquitted some of the charges.
2010-14

Convicted in a disappropriate assets case
In Apr'11, AIADMK was a part of the 13-party alliance that won the 14th TN assembly elections.
Jayalalithaa was sworn in as the chief minister for the third time on 16 May 2011.
In Sep'14, she was sentenced to four years in prison and fined Rs.100cr by the Bangalore Special Court; she was convicted in an 18-year-old disappropriate assets case launched by Subramanian Swamy.
2015-16

Jayalalithaa elected as Chief Minister in 2016
After being disqualified as CM due to criminal charges, Jayalalithaa returned as the CM in 2015 following the acquittal of charges.
She was again elected as CM in the May'16 elections.
In Sep'16, she was admitted to Chennai's Apollo Hospitals; she was hospitalized for over 70 days.
On 4 Dec'16, she suffered a massive cardiac arrest; the doctors declared her dead on 5 Dec'16.
06 Dec 2016

Jayalalithaa to be laid to rest