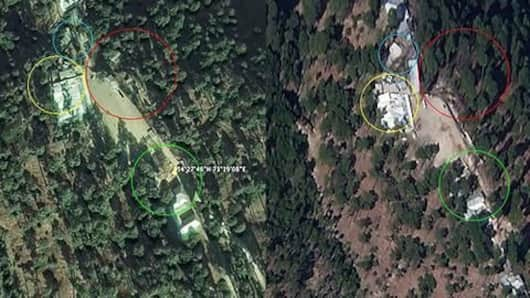 Balakot: Before and after images confirm airstrikes caused significant damage
With a cloud of uncertainty surrounding the number of terrorists killed in Indian Air Force's cross border operation on February 26, satellite images of Jaish-e-Mohammed's camp in Pakistan's Balakot reveal the damage inflicted.
The bombs dropped by IAF jets pierced the roofs and caused significant damage on the ground.
However, the explosives didn't bring down the entire structure.
Here's what we know.
Tents went missing after IAF's operation
The satellite images were clicked on March 4, days after IAF breached Pakistani airspace to demolish JeM's camp.
After the operation, tents in the area were nowhere to be seen. While pre-strike satellite images showed two large tented accommodation, they were missing in post-strike pictures.
This indicates that the tents were either destroyed in the strikes or were removed after the operation.
It seems IAF didn't use Spice-2000 bombs for operation
The post-strike images showed that iron sheet roofs of JeM's facility had four large black spots. This confirms the glider bombs entered the establishment and exploded inside.
While it was reported earlier, IAF used GPS guided Spice-2000 bombs for the operation, the post-strike images indicated a less lethal version of the explosives may have been used.
The Spice-2000 bombs can destroy entire structures.
Love India news?
Stay updated with the latest happenings.
Yes, notify me
Structure also had small burnt spots
According to a report in The Print, Spice-250, specially designed for targets like tents and shacks, could have been used.
The images also show small burnt spots, which couldn't have been caused by a 1,000 kg bomb.
The spots seemed man-made indicating "shallow digging" and "burning" probably by the Pakistani army.
While walls remained intact, significant damage was caused on the ground.
Earlier, Reuters claimed no damage was inflicted
Notably, Reuters had claimed the establishment was intact even after IAF strikes.
The agency assessed the satellite images and after comparing it with pictures of April 2018, concluded, "There are no discernible holes in the roofs of buildings, no signs of scorching, blown-out walls, displaced trees around the madrasa or other signs of an aerial attack."
However, the recent reports dismiss Reuters' findings.
Location of camp protected it from visual surveillance
It is also important to note that days before IAF executed the perfect operation, National Technical Research Organization (NTRO) revealed there were 300 active mobile connections in the outfit's camp.
The camp in Pakistan's Khyber-Pakhtunkhwa province was about 65 kilometer away from the LoC.
Nestled in a jungle, away from the civilian population, the camp was mostly hidden from visual surveillance.
India sends a strong message to Pakistan with airstrikes
By going deep into Pakistan, India has been successful in telling Pakistan that terrorism won't be tolerated.
If the neighboring country continues to aid terror outfits like JeM, which claimed responsibility for the dastardly Pulwama attack, New Delhi won't flinch before retaliating.
With this attack, India also managed to call out Pakistan's nuclear bluff and put the country in a tough spot.
What happened in Balakot?
Asked 2019-03-07 09:40:45 by Muhammad Chauhan
Answered by NewsBytes
On February 26, Indian Air Force launched a discreet operation. The jets entered Pakistani airspace and dropped bombs on Jaish-e-Mohammed's camp in Balakot, Pakistan.
What did Jaish-e-Mohammed do?
Asked 2019-03-07 09:40:45 by Muhammad Kapur
Answered by NewsBytes
Jaish-e-Mohammed has been waging war against India since its inception. The terror outfit, which operates from Pakistan, carried out the Pulwama attack.
Has government revealed number of terrorists killed in the attack?
Asked 2019-03-07 09:40:45 by Vihaan Jaiteley
Answered by NewsBytes
No. The government hasn't revealed a number yet but reports claimed as many as 300 terrorists were killed.
How did Pakistan react on Balakot?
Asked 2019-03-07 09:40:45 by Aaradhya Mehra
Answered by NewsBytes
Pakistan saw Balakot strikes as India's "act of aggression" and condemned it.