India
Rajnath Singh says stranded tourists at Havelock are safe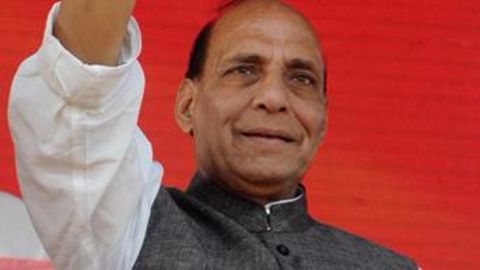 Home Minister Rajnath Singh called up Lieutenant Governor of Andaman and Nicobar Islands, Jagdish Mukhi to enquire about the status of stranded tourists.
"All the tourists in Havelock Island are safe and the government has made all preparations to evacuate them," he said.
He also appealed to the family members of stranded tourists not to panic as everyone is reported to be safe.
In context:
Stranded tourists in Andaman and Nicobar islands
Andaman & Nicobar

Havelock and Neil islands
Havelock island is known for its white sand beaches, rich coral reefs and lush green forests.
It is located 39 kilometres north-east from Port Blair and its area is 113 sq. km.
Neil island is located 37 kilometres south of Andaman Islands and is known as the 'vegetable bowl' of the Andamans.
You can walk through the circumference of Neil-island in approximately two hours.
07 Dec 2016

Indian Navy ships to evacuate stranded tourists from Andaman
Early Wednesday morning, Andaman and Nicobar's civil administration requested assistance from the Indian Navy in evacuating tourists stranded by torrential rains on the islands.
Neil and Havelock, famous tourist destinations of the Andaman and Nicobar islands now hold almost 1,500 stranded tourists.
Following the request, INS Bitra, INS Bangaram, INS Kumbhir and LCU 38 were deployed to help evacuate the tourists.
Love India news?


Stay updated with the latest happenings.
Landing Craft Unit

A LCU (Landing Craft Unit) can land on the beach, making the evacuation process for the tourists much easier.
Climatic Conditions

Hurdles in the evacuation
As of Wednesday evening, all 4 ships were unable to proceed with rescue efforts due to the formation of heavy swells (big waves) because of the depression over southeast Bay of Bengal on Wednesday.
According to local sources, the islands may have to brace prolonged rough weather.
A heavy rainfall warning has been issued, with the wind speed predicted to rise up to 60kmph.
Calling out to the Prime Minister for help

A tweet from one of the stranded tourists reads, "@PMOIndia Sir! We are stuck in Havelock Island due to cyclone effect from last 2 days. Please help us to reach Port Blair."
08 Dec 2016

Rescuing stranded tourists will begin once cyclone subsides: Rajnath Singh
The four ships arranged by the Indian Navy to rescue 1,400 stranded tourists from Havelock and Neil islands are for the second day standing outside Havelock Island's harbour due to rough seas and torrential rains.
Rajnath Singh in a tweet said, "The government will launch the rescue operations immediately after the intensity of the cyclone reduces. The teams are ready in Port Blair."
Love India news?


Stay updated with the latest happenings.
08 Dec 2016

Rajnath Singh says stranded tourists at Havelock are safe
09 Dec 2016

Cyclone Vardah may intensify today
Officials stated that Cyclone Vardah may intensify into a severe Cyclone as it approaches the Andaman coast; several tourists are still stranded on the 2 islands in the region.
Authorities expect heavy rain accompanied by high wind-speeds and have advised everyone to remain indoors.
Vardah is expected to move further north before turning west toward Andhra Pradesh in the next few days.
10 Dec 2016

Vardah cyclone may cross AP by Monday: Met department
The met department said that the 'Vardah' cyclonic storm over southeast Bay of Bengal was expected to intensify into a severe cyclonic storm in the next 12-hours.
The storm lies collected approximately "990 km southeast of Visakhapatnam and 1,090 km east-southeast of Machilipatnam."
AP CM N. Chandrababu Naidu examined the situation and directed the collectors of all coastal districts to be on high-alert.
11 Dec 2016

Alert in TN and Andhra Pradesh as Vardah turns severe
Authorities have sounded an alert across Tamil Nadu and Andhra Pradesh as cyclone Vardah has turned "very severe"; the MET department said it will cross coastal Tamil Nadu and the coast of south Andhra Pradesh.
Authorities predicted heavy to very heavy fall in the region.
They said the storm is "likely to move nearly west-southeastwards and maintain its intensity till Sunday evening."
12 Dec 2016

Vardah pounds Tamil Nadu with heavy rain
Heavy rains accompanied by strong winds pounded Tamil Nadu as Cyclone Vardah approached the coast; authorities said the cyclone has weakened considerably after forming.
Authorities said that the entire north coastal Tamil Nadu and Nellore in Southern Andhra Pradesh would be severely affected by the cyclone.
Vardah also caused considerable damage in the Andamans uprooting trees and electricity poles.