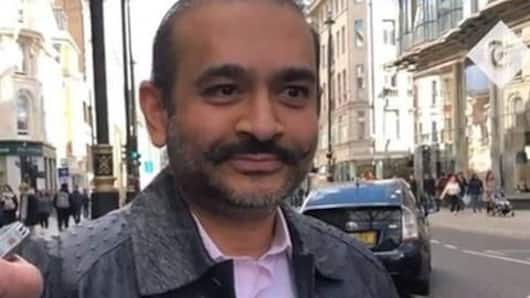 India didn't show interest in pursuing Nirav Modi's case: Report
India apparently didn't show interest in pursuing the case of Nirav Modi, the fugitive diamantaire who was spotted in London last week claims a report by NDTV.
UK authorities needed more documents from India to speed up Modi's extradition but the government didn't pay attention to the demands.
Modi is the key accused in the over Rs. 13,000 crore PNB fraud.
Here's more.
Backstory: Modi and his uncle cheated PNB of crores
The biggest scam in Indian banking history came to light last year. Modi and his uncle Mehul Choksi allegedly connived with PNB employees to procure LoUs since 2011.
The scam, initially pegged at Rs. 280 crore, grew substantially with time, prompting ED and CBI to launch an investigation.
Choksi and Modi fled the country weeks before PNB revealed the bank had been cheated.
Unfazed by scam, Modi started new business in UK
While Choksi obtained nationality of Antigua and is staying there, ambiguity over Modi's whereabouts persisted.
Though his passport was revoked, Modi continued to travel. He was reported to have spent some days in Hong Kong, China, before leaving for the UK.
He reportedly lives in a posh bungalow, wears an expensive jacket, and has reportedly started his new diamond business as well.
Love India news?
Stay updated with the latest happenings.
Yes, notify me
India claimed Modi's case is getting same attention as Mallya's
After The Telegraph tracked Modi down, MEA spokesperson Raveesh Kumar assured that India has taken steps to ensure his return.
Kumar said it shouldn't be assumed that India isn't pursuing Modi's case like Vijay Mallya's. He added the UK has been sent an extradition request many times.
But the NDTV report claimed otherwise. The government seems to have taken a softer stand towards Modi.
Last year, India informed UK about Modi's case
India apprised the UK about Modi's case last year through the Mutual Legal Assistance Treaty (MLAT), the Serious Fraud Office in London said.
The treaty does away with the long process of catching offenders and allows the Home Ministry to directly get in touch with Britain's government via the High Commission.
Between Crown Prosecution Service and SFO, the latter was tasked with Modi's case.
UK also provided legal assistance but India didn't pay attention
Credits:
By March, the SFO confirmed to India that Modi was in the UK. Lawyer Barry Stancombe, a junior barrister, was also assigned to help India in the case.
Reportedly, Stancombe and his team wrote three letters to India last summer seeking more documents in the case. But India didn't reply.
The lawyers also volunteered to visit India to collect more evidence.
Meanwhile, Modi has readied his army of lawyers
By December, SFO stopped pursuing the case due to "lack of interest" on India's part. Meanwhile, Modi swung to action.
He hired legal firm Mischcon to look into his asylum request and his case is being handled by lawyer Kamal Rehman.
Another team of lawyers, led by Anand Doobey, is working on Modi's extradition case. Notably, the MEA has maintained silence on the revelations.
How many LoUs were given to Nirav Modi?
Asked 2019-03-13 00:14:10 by Rakesh Patil
Answered by NewsBytes
As per reports, the Punjab National Bank issued 1,590 LoUs to Nirav Modi and Mehul Choksi since 2011. The duo pulled off the biggest scam in baking history worth nearly Rs. 13,600 crore.
Where is Nirav Modi currently?
Asked 2019-03-13 00:14:10 by Rishika Malik
Answered by NewsBytes
Nirav Modi is currently staying in London.
How are Nirav Modi and Mehul Choksi related?
Asked 2019-03-13 00:14:10 by Angel Sengupta
Answered by NewsBytes
Mehul Choksi is the uncle of Nirav Modi.
What has India said about Nirav Modi's extradition?
Asked 2019-03-13 00:14:10 by Navya Dutta
Answered by NewsBytes
India claimed the case is with the UK and they are taking concrete steps in this direction.