India
PM Modi's clandestine demonetization operation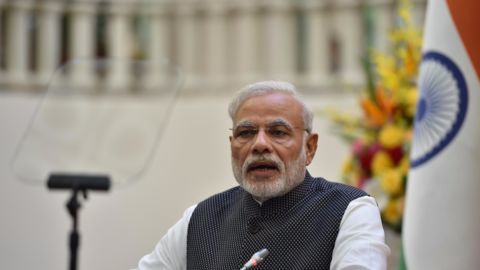 While the demonetization move takes its toll in the nation, reports stated that the Prime Minister's closely guarded secret was entrusted to a trusted official in the finance ministry, Hasmukh Adhia.
Adhia, and five others were sworn to secrecy for initiating and driving the demonetization move.
The small team was supported by researchers who were working out of PM Modi's residence, the reports said.
In context:
PM Modi's black money move
Hasmukh Adhia is an Indian Administrative Service (IAS) officer who currently serves as the country's Revenue Secretary.
The IAS officer had previously served as Principal Secretary to PM Narendra Modi from 2003-2006 when Modi was Chief Minister of Gujarat.
Adhia is a PhD holder in yoga from Swami Vivekanada Yoga University, Bengaluru, apart from graduating as a gold-medalist from IIM, Bengaluru.
Demonetization

PM Modi's fight to curb corruption
Long after India's Prime Minister announced a massive overhaul of the monetary supply in the economy, through demonetizing high-value currencies, he wrote to state governments highlighting the need to fight black money.
The rationale behind the move, Modi told the state governments, was to help curb corruption and lead a cashless economy.
Modi also stated that the move would fight terrorism and counterfeiting.
Love India news?


Stay updated with the latest happenings.
Adhia's take on black money flowing into banking channels

"Do you think that by simply depositing the money in a bank account makes black money into white? It doesn't. It will become white when we charge taxes, when the income tax department is able to reach to them and issue them a notice."-Hasmukh Adhia
13 Dec 2016

PM Modi's clandestine demonetization operation
Adhia's team modeled a theoretical exercise for demonetization

"We didn't want to let the cat out of the bag. Had people got a whiff of the decision, the whole exercise would have been meaningless," said a senior government official.
Demonetization reports

Rush to announce the decision?
Earlier this year, India's SBI had already discussed the possibility of demonetizing high-value currencies and by May, the RBI announced that new currencies would be printed.
Soon after the printing presses started operating for the move, media outlets began running the story.
While ministry officials confirmed that it was set for 18 November, the move was announced to prevent the details from being leaked.