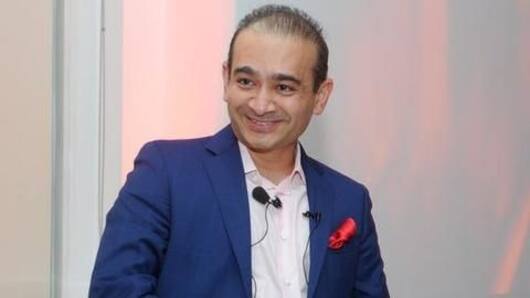 After Nirav Modi's bail rejection, PM says "Chowkidar is alert"
Fugitive businessman Nirav Modi, who is the prime accused in the Rs. 13,000 crore PNB fraud, was denied bail by a UK court on Wednesday. He will stay in prison till March 29.
Hours after his arrest, Prime Minister Narendra Modi addressed security guards across the country and said, "My work is to be alert 24X7 like you."
Here's what went down.
Modi was arrested while attempting to open bank account
Earlier this month, Modi was spotted in London, where he reportedly started his new business.
On Tuesday, the diamantaire had gone to Metro Bank in London to open a bank account when a teller informed the police leading to his dramatic arrest.
His lawyers hoped to keep it subtle and get him arrested at a police station on March 25, but police moved swiftly.
Modi's lawyer made an offer of Rs. 4.5 crore
After spending a night in jail, Modi was presented at Westminster Magistrates' Court where his bail application was rejected.
Notably, his lawyer George Hepburne Scott offered to pay Rs. 4.5 crore for security and assured the court Modi will cooperate.
But the judge wasn't impressed. "I have substantial grounds to believe that you may not surrender," judge Marie Mallon told him.
Love India news?
Stay updated with the latest happenings.
Yes, notify me
CPS informed court Modi may not surrender if granted bail
The Indian side was represented by Crown Prosecution Service (CPS), who informed the court that Modi is needed in the country for fraud and money laundering.
Barrister Jonathan Swain said, "We do object to bail because there are substantial grounds to believe the requested person (Modi) would fail to surrender."
The court also learned that Modi had at least three passports.
MEA welcomed arrest, BJP leaders hailed PM Modi
Modi's arrest was welcomed by India. The External Affairs Minister in a tweet said, "Government of India continues to actively follow up this matter with the authorities concerned in the UK, with a view to have Nirav Modi extradited to India at the earliest."
Soon BJP leaders praised PM Modi with Union Minister Ravi Shankar Prasad saying it isn't easy to escape the chowkidar.
Everyone is talking about chowkidars, said PM Modi
Separately, PM Modi also cashed in on the arrest, without explicitly mentioning the businessman.
In his radio address to security guards, PM Modi said, "Everyone is talking about chowkidar. The entire nation is taking a pledge to be a chowkidar today...Calling a chowkidar chor repeatedly is an insult to all chowkidars."
Likening himself to guards, PM Modi said he was always on an alert.
Here's why Modi's extradition won't be like Mallya's
Modi's arrest set off another high-profile extradition case in London, months after liquor baron Vijay Mallya's return was ordered by a UK court.
However, unlike Mallya, Modi's extradition could be quicker since the allegations against him aren't flimsy.
Mallya argued in court he couldn't repay loans because of Kingfisher Airlines' failure but in Modi's case, CBI's chargesheet highlights his criminal conspiracy.
Meanwhile, Congress asked how was this BJP's victory
In all likeliness, the latest development will embolden BJP's prospects before elections. Meanwhile, Congress' Priyanka Gandhi Vadra asked how was this BJP's victory.
"I wonder who let him flee in the first place," Priyanka said. Senior Congress leader Ghulam Nabi Azad said BJP "sent" Modi and was "bringing him back" for elections.
But BJP supporters remained ecstatic on Wednesday evening and hailed "the chowkidar".
When was Nirav Modi arrested?
Asked 2019-03-21 09:49:09 by Surabhi Chauhan
Answered by NewsBytes
Nirav Modi was arrested in London on Tuesday, March 19. His bail application was rejected and he will stay in jail till March 29.
Where was Nirav Modi arrested?
Asked 2019-03-21 09:49:09 by Vishal Powar
Answered by NewsBytes
Nirav Modi was arrested at Metro Bank where he had gone to open a bank account.
What did the judge say while rejecting Modi's bail plea?
Asked 2019-03-21 09:49:09 by Hansika Singhal
Answered by NewsBytes
The judge said there's enough evidence to believe that Modi will not surrender if he is granted bail.
How did BJP react on Modi's arrest?
Asked 2019-03-21 09:49:09 by Chirag Dutta
Answered by NewsBytes
BJP saw it as a victory of Prime Minister Narendra Modi.