Mumbai's car density surpasses that of Delhi's by five times
India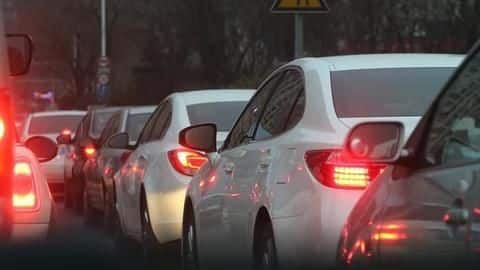 Mumbai has become the most car-congested city in India with a density of 510 private cars for every kilometer of road, compared to 108 of Delhi's, said Maharashtra transport department.
The car density has escalated by 18% in the last two years.
Although number of private cars in Mumbai is one-third of Delhi's, major reason for its high density is lack of road space.
Details
Mumbai's reduced road space major reason for traffic congestion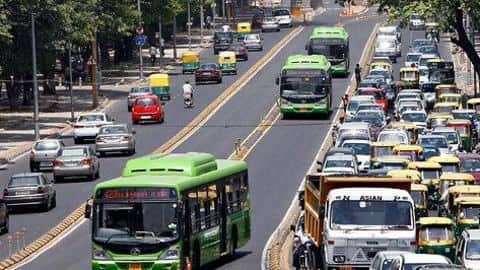 The statistics further said that the huge difference between car population and road space lead to traffic jams, unauthorized parking and pollution in the city of dreams.
Notably, Mumbai has 2,000km of roads compared to 28,000km in the national capital.
Pune is second in the running with a car density of 359 followed by Kolkata (319), Chennai (297) and Bengaluru (149).
Problem
Private cars occupy 49% of road space in Mumbai: Study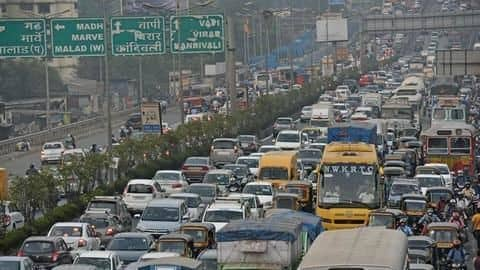 Mumbai Environmental Social Network, a think-tank that provides solutions to growing traffic congestion, recently released a study that said 49% of the road space is occupied by private cars.
This has led to an increase in traffic congestion.
On the Western Express Highway, the maximum speed limit is 80kmph in the Dahisar-Bandra stretch, but it drops to 10kmph at peak hours.
RTO reports
Powai, Chembur see highest car registrations in eastern suburbs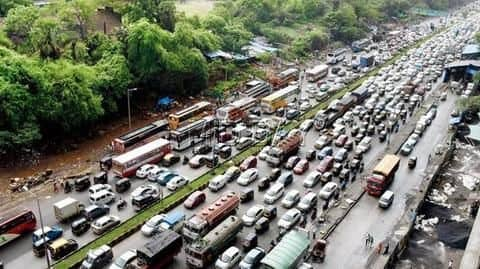 According to a RTO report, the eastern suburbs of Mumbai have recorded 1.7 lakh registered private cars in Mumbai in the past few years.
Powai, an upcoming market in eastern suburbs, recorded the maximum number of SUVs and other high-end cars registrations in that said period.
Chembur, also in eastern suburb, is second in race, with almost every middle-class household having a car registration.
Details
5L car registrations in Western suburbs, 3.3L in island city
Meanwhile, the western suburbs of Mumbai recorded 5 lakh registered cars as per the RTO data.
Andheri and Goregaon of western suburbs saw growth in car population, due to rise in residential and commercial hubs.
Kandivali, Bandra and Borivali, follow next, with more number of households buying bigger cars, which take up more road space.
Alongside, the island city recorded 3.3 lakh car registrations.
Latest
State government appoints special body to tackle parking problem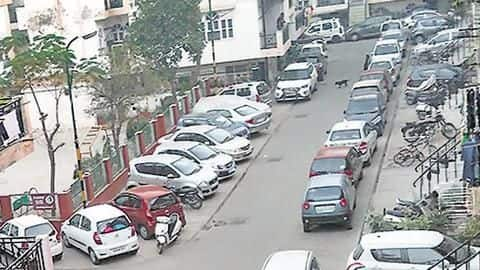 Moreover, according to reports stationary vehicles consume one-fifth of the already less road space.
The state government, earlier this month, appointed a special body, under top IAS officers, to take action against the illegally parked vehicles, along with the traffic police.
Plans will be drawn to identify the roads, which can be used as a parking space by creating an on-street parking map.
Plans
Impose congestion tax in the business hubs, says expert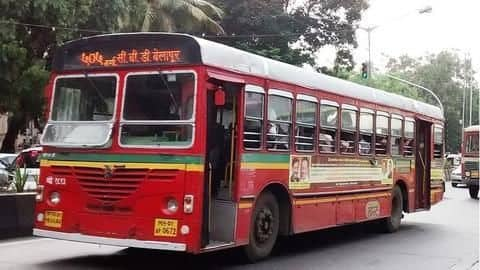 This alarming spike in road congestion has given rise to the need for more public transport.
Mumbai Transport Forum's AV Shenoy said, "There is an urgent need to set-up a parking authority to implement the new parking policy, and also impose congestion tax in the business hubs."
Also, Maharashtra government is planning more metro corridors for smoothening traffic and parking issues, said officials.
Quote
Commuting by road will soon be a nightmare: Transport analyst
Ashok Datar, a transport analyst, who has been advocating the use of buses, said, "Mumbai has been bursting at the seams past few years, and if there is no control over the purchase or mobility of private cars, commuting by road will be a nightmare."