India
Tajikistan President holds bilateral talks with PM Modi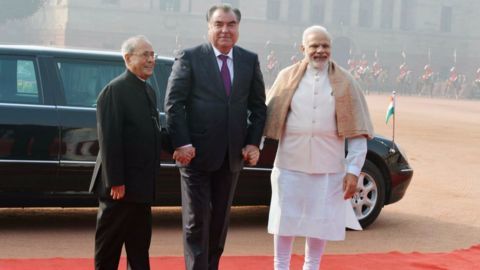 Visiting Tajikistan President Emomali Rahmon held delegation level talks with Prime Minister Narendra Modi in Delhi.
The Tajik President and PM Modi have issued a joint statement after the talks on bilateral, regional, and international issues.
"Noting that 2017 will mark the 25th anniversary of establishment of diplomatic ties between the two countries, they affirmed their commitment to take bilateral relations to greater heights."
In context:
Tajikistan President's state visit to India
08 Dec 2016

Tajikistan-India relations
India's diplomatic ties with Tajikistan began in 1991 following Tajikistan's independence after the dissolution of USSR.
Tajikistan shares 1400-km-long porous border with Afghanistan and holds great geo-strategic significance for India which provides military assistance to it, including supply of helicopters as part of counter-terrorism cooperation.
India also developed Tajik's Ayni airbase near Dushanbe, which gave it a foothold in Central Asia.
08 Dec 2016

Tajik President Rahmon's visit to India
The President of Tajikistan Emomali Rahmon was scheduled for a 5-day State visit to India from 14-18 Dec 2016.
This was his 6th visit to India. During his last visit in 2012, India and Tajikistan elevated their relations to the level of a "long-term strategic partnership".
During his visit, he is expected to meet Prime Minister Modi and President Pranab Mukherjee.
Love India news?


Stay updated with the latest happenings.
Schedule of the visit

Tajikistan President Rahmon entered India through Kochi which was not part of his official visit. He arrived in Delhi on 16 Dec after visiting Kerala. His official engagements began on 17 Dec which included the bilateral talks with PM Modi.
18 Dec 2016

Tajikistan President holds bilateral talks with PM Modi
Recent encounters between Modi and Rahmon

Prior to the current visit of Tajik President, he met with PM Modi in June 2016 in Tashkent on the sidelines of SCO summit and before that during Modi's visit to Tajikistan in July 2015.
18 Dec 2016

On terrorism and trade linkage through Chabahar port
PM Modi and President Rahmon stressed that terrorism in all its forms must be eliminated and called for an end to sponsorship and support to terrorists. They reaffirmed resolve to strengthen counter-terrorism co-operation.
The two leaders also agreed to work together on trade and transit linkages through Chabahar port in Iran, which provides connectivity of Tajikistan to warm waters and also to Indian market.