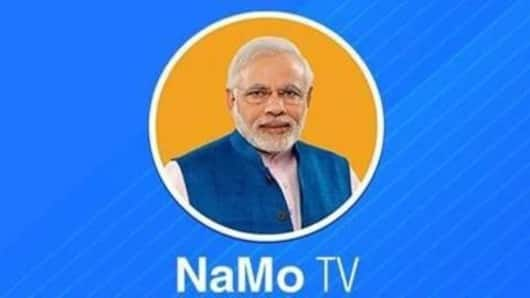 NaMo TV: EC seeks report from I&B Ministry
Taking cognizance of complaints filed by Opposition parties, the Election Commission has asked I&B Ministry for a report on NaMo TV, a channel which was launched on March 31 when Model Code of Conduct (MCC) for elections was in force.
I&B Ministry sought time till April 5 to file its report and the EC has specifically asked it to adhere to the deadline.
From YouTube to DTH: NaMo TV made surprising entry
NaMo TV, which was a YouTube channel, debuted on DTH platforms on March 31. The channel airs speeches and rallies of Prime Minister Narendra Modi and interviews of other BJP leaders.
Though the party hasn't claimed ownership of the channel, social media accounts of BJP urged people to watch the channel.
Just before India votes, the existence of the channel was seen as a code violation.
Congress asked pertinent questions related to NaMo TV
While questions were raised about operation of NaMo TV, Congress wrote to EC. "The contents are being broadcast in complete violation of the rules and regulations of cable televisions," the Congress wrote in its complaint.
The party underscored NaMo TV doesn't feature on the list of "private satellite channels" permitted by I&B.
How the channel got a clearance was also asked.
Love India news?
Stay updated with the latest happenings.
Yes, notify Me
Surjewala said PM Modi was mocking the Constitution
"Prime Minister Narendra Modi is trampling upon democratic norms in India. By running brazenly and blatantly 'NaMo TV'. Isn't the Prime Minister mocking the Constitution as also every democratic norm," asked Congress spokesperson Randeep Singh Surjewala.
AAP asked if NaMo TV took permission
AAP also complained to EC about the channel. The party, led by Arvind Kejriwal, asked EC if permission was sought for the channel.
"Can permission be granted to a party to have its own TV channel even after the model code is enforced? If no permission was given by the ECI, then what action has been taken," asked AAP.
Ministry may tell EC that NaMo TV doesn't need license
Reportedly, EC told I&B Ministry "April 5 means April 5" to ensure the reply isn't delayed. The Ministry which is preparing its reply may tell the election watchdog that no permission is required to run advertising channels.
"It is a kind of advertising platform launched by the service provider, currently being run on some DTH platforms," the Ministry's sources reportedly said.
Congress also claimed Doordarshan was misused by Centre
Separately, Congress also raised concerns on PM Modi's "Main Bhi Chowkidar" campaign.
The program was telecasted live on Doordarshan and its YouTube channel and Congress said this qualified as "misuse" of the platform.
Notably, former Chief Election Commissioner SY Quraishi concurred. He said, "I am uncomfortable about this. Party in power can't use and abuse government machinery. The incumbency advantage has to be made zero."
When did NaMo TV air on televisions?
Asked 2019-04-04 11:35:07 by Dhruv Venkatesan
Answered by NewsBytes
NaMo TV aired on March 31.
What does NaMo TV show?
Asked 2019-04-04 11:35:07 by Paridhi Jhadav
Answered by NewsBytes
NaMo TV airs speeches, rallies of Prime Minister Narendra Modi and interviews of other BJP leaders.
Why are opposition parties miffed with NaMo TV?
Asked 2019-04-04 11:35:07 by Ananya Kapoor
Answered by NewsBytes
The existence of NaMo TV was seen as a poll code violation by several opposition parties.
Has EC taken any steps against NaMo TV?
Asked 2019-04-04 11:35:07 by Sanvi Rangarajan
Answered by NewsBytes
Yes. EC has asked I&B Ministry to file a report by April 5.