Government announces new army, air force, security chief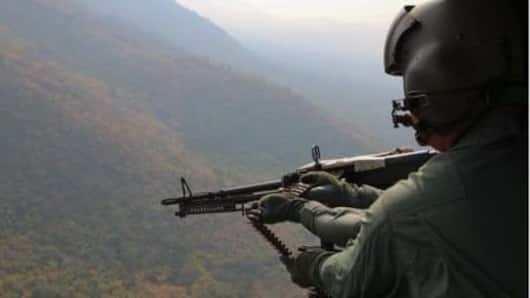 The government announced the names of the new air force and army chief, while also listing the new heads for India's security agencies.
The new army chief is Lieutenant General Bipin Rawat, while the Indian Air Force will be led by Air Marshal Birender Singh Dhanoa.
Anil Dhasmana will be the chief of RAW and Rajiv Jain will head the domestic agency Intelligence Bureau.
In context
India's top security chiefs
About
Air Marshal BS Dhanoa
Air Marshal BS Dhanoa, whose father was the chief secretary of Punjab, joined the IAF in early 1978 as a fighter pilot.
A daring young pilot, he flew multiple night strike missions during the Kargil War.
With over 38 years of experience in kitty, Air Marshal Dhanoa served as the Indian Air Force's vice chief from last year.
Profile
Lieutenant General Bipin Rawat
The next army chief Lieutenant General Bipin Rawat joined the Indian Army in late 1978.
Upon graduating from the Indian Military Academy, a young Rawat was awarded the Sword of Honour.
He hails from a military background, with his father also having served as a lieutenant general.
Commissioned into the 5/11 Gorkha Rifles, Rawat also headed the UN peacekeeping operations in Congo during 2008.
Love India news?
Stay updated with the latest happenings.
Notify Me
Profile
Rajiv Jain
Rajiv Jain, from the Jharkhand cadre Indian Police Service 1980 batch, is set to take office as the new Intelligence Bureau chief for a period of two years.
He joined the agency as an assistant director in 1989.
After handling crucial assignments as head of the Subsidiary Intelligence Bureau across state capitals, he later took on the role of a senior special director.
About
Anil Kumar Dhasmana
Anil Kumar Dhasmana is from the 1981 batch of the Indian Police Service, and is set to take up his role as the Research and Analysis Wing's (R&AW) new head.
After having joined the security agency in 1993, he worked across the agency's desk for Pakistan.
He will take up his new role when the current chief Rajinder Khanna retires from the office.
Congress questions government on flouting seniority rule
"Why has Seniority not been respected in Aptt. of Army Chief? Why have Lt Gen PRAVIN Bakshi & Lt Gen Mohamed Ali Hariz been superseded Mr PM?" questioned Congress leader Manish Tewari.
19 Dec 2016
Lieutenant General Rawat's efficiency in the Congo
In August 2008, Lt. General Bipin Rawat was sent to the Congo to command the Indian Army's deployment.
Before his arrival, the locals there were extremely unhappy with the mission.
Rawat quickly identified the problem and his strategies filled the locals with hope.
According to Bipin Rawat, "they knew we were willing to go the extra mile for them."
Best suited choice
According to government sources, Bipin Rawat, who takes over on 31st December, 2016, was "best suited to deal with emerging challenges, including a reorganized and restructured military force in the north, continuing terrorism and proxy war from the west and the situation in the Northeast."
31 Dec 2016
Bipin Rawat, Birender Dhanoa appointed as Army and AirForce chief
Lt General Bipin Rawat was appointed the 26th Army Chief of India replacing General Dalbir Singh Suhag.
Lt Gen Rawat was the Vice Chief of Army Staff earlier.
Air Marshal Birender Singh Dhanoa too was appointed the next Air Force Chief replacing Anup Raha.
Dalbir Singh and Anup Raha paid tribute at Amar Jawan Jyoti before handing over their positions.
01 Jan 2017
Lt Gen Praveen Bakshi to lead Eastern Command
Lt Gen Praveen Bakshi stated that he would continue leading the Army's Eastern Command with "full professional sincerity" and had no intention of resigning.
Quashing rumors about discontent within the forces, he said it was time to end the "speculations and trolling" in the media.
He also contacted Gen Rawat to congratulate him and extend his full support.
03 Jan 2017
SB Deo now vice-chief of Air Staff
Air Marshal SB Deo on Monday took over from Air Marshal BS Dhanoa as vice-chief of Air Staff.
Air Marshal BS Dhanoa is now the chief of the Air Staff.
Air Marshal Deo is an alumnus of the National Defence Academy and Defence Services Staff College, Wellington.
He was commissioned as a fighter pilot in the IAF on 15th June, 1979.