India
Nithari killings: Pandher, Koli get death in eighth rape-murder case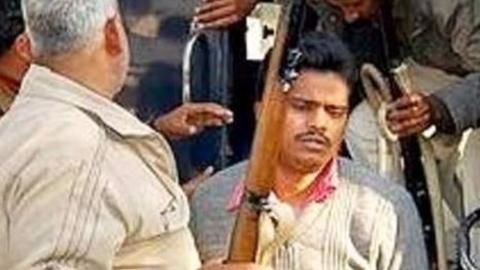 Businessman Moninder Singh Pandher and domestic help Surinder Koli, recently convicted in the murder of a 20-year-old woman along with several others, have been given the death penalty for Pinki Sarkar's abduction, rape and killing.
Koli had already been sentenced to death in seven cases.
In 2006, several women including minors disappeared in UP's Nithari. Later, many skeletons were found near Pandher's house.
In context:
The 2006 Nithari serial murders case
Dec 2006

Two Nithari residents suspect Surinder Koli
Two residents of Noida's Nithari village claimed Surinder Koli, the domestic help at Moninder Singh Pandher's house, was involved in the disappearance of many children since 2004.
With the help of former RWA President SC Mishra, the residents conducted searches and found a decomposed hand in the tank drain.
A case was filed; residents claimed the police were corrupt who didn't take necessary action.
Arrests

Carcasses of children found in the drain
The case was strengthened when dead bodies of children were found in the drain outside Pandher's house.
Pandher and his domestic help Koli were arrested in December 2006; police recovered bones, biological material, and clothes from the drain.
In January 2007, Koli, who was lodged in Ghaziabad's Dasna jail confessed he cut victims' bodies with an axe and threw the pieces in poly bags.
Love India news?


Stay updated with the latest happenings.
CBI

CBI re-registered 19 cases
The CBI had taken up the investigation, re-registered 19 cases and charged Koli for rape and murder.
However, a final report was filed only in three cases; Koli's employer Pandher was charge-sheeted in one case.
During the trial, a Ghaziabad court summoned Pandher as a co-accused in six cases.
Koli was accused of raping girls before killing them and also allegedly eating them.
Rape, Murder

Rape and murder of two women
Koli was accused of raping and murdering 20-year-old Payal, and 25-year-old Nanda Devi who stopped working at Pandher's house in Aug 2006 due to pregnancy.
Koli had reportedly asked Devi to rejoin work in October 2006, only a day before she disappeared.
Payal's disappearance was one of the first cases for which Pandher and Koli were picked up by police.
Life Imprisonment

Allahabad HC commutes Koli's sentence to life term
In February 2009, a Ghaziabad court found Koli and Pandher guilty of killing a victim Rimpa Haldar; both were sentenced to death.
Subsequently, Koli was awarded death sentence in four other cases.
In September 2009, the Allahabad High Court acquitted Pandher of all charges and upheld Koli's sentence.
However, in Jan'15, the Allahabad HC commuted Koli's death sentence to life term in a case.
UP Govt's plea

In Jul'16, the Uttar Pradesh Government filed a plea in the Supreme Court challenging the ruling of Allahabad HC to commute Surinder Koli's death penalty to life term. The SC agreed to hear the appeal and sought Koli's response on the same.
Love India news?


Stay updated with the latest happenings.
06 Oct 2016

Nithari Killings Case: Surinder Koli found guilty in sixth case
A Ghaziabad special Central Bureau Investigation (CBI) court held Surinder Koli guilty of Nanda Devi's murder in the sixth case of the 2006 Nithari killings case.
Devi, 25, was a domestic help hailing from Nepal, who worked at Moninder Singh Pandher's house before disappearing on 31 October 2006.
CBI public prosecutor JP Sharma said the quantum of punishment would be pronounced on 7 Oct'16.
The six cases

Koli was awarded the death sentence for the murders of Rimpa Haldar (Feb 2009), Aarti (May 2010), Rachna Lal (Sep 2010), Deepali (Dec 2010), and Payal (Dec 2010). The hearing in the sixth case involving the killing of Nanda Devi began in 2013.
24 Jul 2017

Nithari killings: Pandher, Koli get death in eighth rape-murder case
08 Dec 2017

Nithari killings: Accused get death penalty in yet another case
Businessman Moninder Singh Pandher and his aide Surendra Koli have been sentenced to death for the rape-murder of their housemaid Anjali (2006).
Koli had dragged her inside the house, raped her and then ate her flesh.
Koli has already been sentenced to death in eight cases, Pandher in three.
Chargesheets have been filed against them in 16 of 19 cases. Ten have been decided.