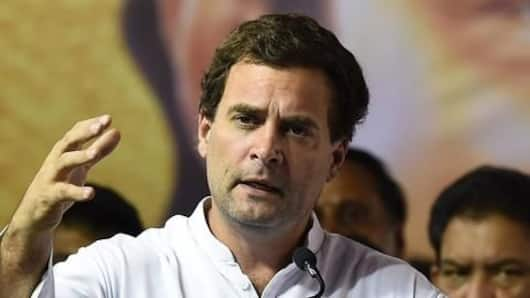 Chowkidar Chor hai remark: SC seeks reply from Rahul Gandhi
On Monday, the Supreme Court accused Congress President Rahul Gandhi of misquoting its Rafale findings and directed him to explain his remarks by April 22.
Rahul, who has been questioning the purchase of 36 Rafale jets, claimed the top court noted that Prime Minister Narendra Modi committed theft.
His comments invited a contempt plea by BJP MP Meenakshi Lekhi.
Here's what happened.
Backstory: Understanding what SC said on Rafale last week
Credits:
Last Wednesday, Centre argued that Rafale documents which media accessed shouldn't be considered as evidence by the court as they were classified.
Rejecting the plea, CJI Ranjan Gogoi led bench said it would see the documents while considering petitions seeking a review of the previous order.
As the bench upheld the freedom of the press, the verdict was seen as a setback for Centre.
An elated Rahul thanked Supreme Court
Soon, Rahul slammed PM Modi. Calling it a day of celebration, he thanked SC from Amethi, where he had gone to file the nominations.
"The entire country is saying that Chowkidar has committed theft. It is a day of celebration that the Supreme Court has talked about justice," he said.
He claimed PM Modi's claims of getting a clean chit were also bogus.
Love India news?
Stay updated with the latest happenings.
Yes, notify me
Rahul said SC approved what he had been saying
"I am very happy that what I have been saying for months, that PM Modi has stolen Indian Air Force's funds and given Anil Ambani Rs. 30,000 crore, Supreme Court has accepted it and will investigate it," Rahul said.
Subsequently, Lekhi file contempt plea against Rahul
Rahul's comments, which were widely reported in media, didn't sit well with BJP. Defense Minister Nirmala Sitharaman said he was on verge of defying the court and soon Lekhi filed a contempt plea.
Mukul Rohatgi, who appeared for Lekhi, said Rahul gave a colored interpretation to the verdict to attack PM Modi.
The court agreed to hear the matter on Monday, April 15.
Court said it never made such remarks
On Monday, CJI led bench set the record straight. "We make it clear the statement attributed to this court in the address made by the respondent (Rahul) to the media and public has been incorrectly attributed to this court," the bench said, adding that they only gave an order on the admissibility of documents.
Rahul was asked to explain his comments by April 22.
Rahul directed to explain his remarks
Rahul Gandhi has to file a reply in Supreme Court before Monday. The Court fixed the matter for further hearing on Monday, April 22. https://t.co/qwEDJxMj86

— ANI (@ANI) April 15, 2019
Did Supreme Court call Prime Minister Narendra Modi a thief?
Asked 2019-04-15 12:47:29 by Vivaan Patel
Answered by NewsBytes
No. SC never called him a thief.
Why was contempt plea filed against Rahul Gandhi?
Asked 2019-04-15 12:47:29 by Divya Chauhan
Answered by NewsBytes
Rahul Gandhi claimed SC called PM Modi a thief and BJP MP Meenakshi Lekhi filed a contempt plea against him.
Who represented Meenakshi Lekhi in court?
Asked 2019-04-15 12:47:29 by Ridhi Kapur
Answered by NewsBytes
Mukul Rohtagi represented Meenakshi Lekhi in court?.
What did the court say?
Asked 2019-04-15 12:47:29 by Abhinav Khan
Answered by NewsBytes
The court gave Rahul time till Monday, April 22, to file a reply.