Malegaon blast-accused Sadhvi Pragya joins BJP, to contest from Bhopal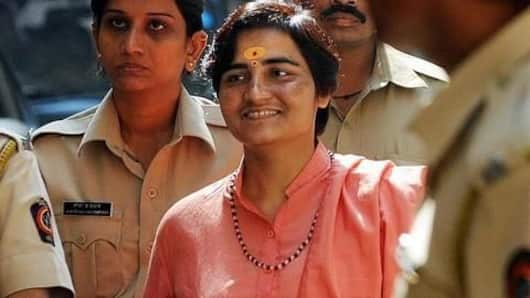 Sadhvi Pragya Thakur has formally joined BJP on Wednesday, saying she will fight and win the Lok Sabha elections.
Sadhvi Pragya earlier met with senior BJP leaders, including Shivraj Singh Chouhan, Ramlal, and Prabhat Jha at the party office in Bhopal.
She said the election in Bhopal would be fought on the issue of nationalism, adding it's the beginning of 'Dharam Yudh'.
Here's more.
In context
Bhopal: Sadhvi Pragya Thakur formally joins BJP
Details
I will contest elections and will win also: Sadhvi Pragya
"I have formally joined BJP, I will contest elections and will win also. I have been extended BJP membership on Tuesday," Sadhvi Pragya said.
She said she has a strong connection with the people of Bhopal and has worked across the city as the ABVP's organization minister.
Sadhvi Pragya, who is out on bail, is a key accused in the 2008 Malegaon blast case.
Bhopal seat
Sadhvi Pragya to fight against Digvijaya Singh in Bhopal
Sadhvi Pragya is likely to fight the Bhopal Lok Sabha election against senior Congress leader Digvijaya Singh.
BJP has a stronghold in the Bhopal constituency. The Congress party has not won an election in Bhopal since 1989.
The Bhopal Lok Sabha constituency consists of eight assembly segments, including Berasia, Bhopal Uttar, Narela, Bhopal south-west, Bhopal central, Govindpura, Huzur, and Sehore.
Love India news?
Stay updated with the latest happenings.
Notify Me
Polling
Elections in MP to be held in four phases
Lok Sabha elections in Madhya Pradesh would be held in four phases for its 29 seats.
The Lok Sabha election polling in Madhya Pradesh begins with the fourth phase for six seats on 29 April, for seven seats on 6 May under the fifth phase, eight seats under the sixth phase on 12 May, and eight seats under the seventh phase on 19 May.