India
Sabarimala temple: SC Constitutional bench to decide on women's entry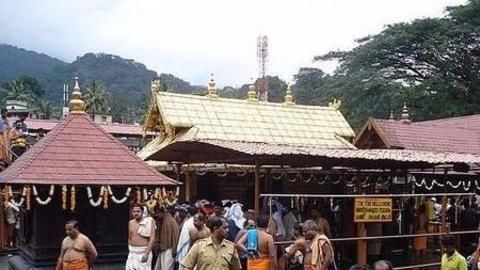 The SC has referred the case on women's entry in Sabarimala to a Constitutional bench, which will decide if the current ban violates fundamental rights.
It will also decide whether Sabarimala devotees form a separate religious group and if the temple can enforce a ban on females in the name of 'morality'.
Women aged 10-50 aren't allowed inside Sabarimala as the deity is 'celibate'.
In context:
The contentious ban on women's entry in Sabarimala
About

50-60 million people undertake pilgrimage to Sabarimala annually
Sabarimala is one of the most visited holy sites in the world. Every year an estimated 50-60 million devotees undertake a pilgrimage to the temple.
The temple, dedicated to Lord Ayyappa, is run by the state-controlled Travancore Devaswom Board (TDB).
The board restricts entry of women in their reproductive age (10-50 years) inside the temple, claiming the main deity is celibate.
History

About the ongoing case on women's entry in Sabarimala
In 2006, the Indian Young Lawyers Association and five women lawyers filed a PIL before the Supreme Court challenging the ban of women's entry inside Sabarimala.
The petition contended that the ban has violated Article 14 (equality before law) and Articles 25 and 26 (freedom of religion) of the Constitution.
It stated that such discrimination against women was not an accepted practice in Hinduism.
Love India news?


Stay updated with the latest happenings.
Stakeholders

What does the court and the government think?
The Supreme Court has questioned the legality of the temple's practice many times during the several hearings on the case.
In November 2016, in an affidavit submitted, Kerala's Left Democratic Front (LDF) government had also favored the entry of women of all age groups.
However, it refused entry to activist Trupti Desai, saying "until a decision is reached, the ongoing tradition must be followed".
Who is Trupti Desai?

Trupti Desai is an activist who had campaigned for the entry of women at the Shani Shingnapur, Trimbakeshwar Shiva temple and

Haji Ali dargah

. Once she said she will lead 100 women activists to the Sabarimala temple. However, she wasn't allowed to enter.
13 Oct 2017

Sabarimala temple: SC Constitutional bench to decide on women's entry